UK reaches out to Panama, an economic success story
Foreign Office Minister Hugo Swire today met Panama's Deputy Foreign Minister Francisco Alvarez De Soto during his six day visit to the UK.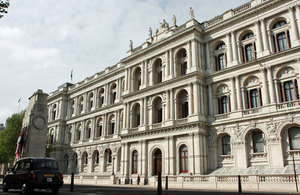 At a time when relations between the two countries are stronger than ever, the Ministers discussed further cooperation across a range of issues, including broadening commercial ties, for the months and years ahead.
Mr Swire said:
"Following the visit of President Martinelli in July, I am delighted to have met Mr Alvarez De Soto and to have heard about the exciting developments in Panama: from its emergence as a leading trade and logistics hub through to a massive public infrastructure programme, including the widening of the Canal. Together with business-friendly practices, this has contributed to impressive double-digit growth. It is a significant moment for the country, which is fast becoming one of Latin America's greatest success stories.
"The UK is already the largest investor in Panama focusing on areas like engineering, finance and pharmaceuticals, but there are many more ways we can work together. We have a strong political and historical connection that helps to create opportunities. I look forward to visiting Panama myself later this year and seeing more of these opportunities for myself."
Published 4 October 2012