UK providing aid for flood victims in Pakistan
The UK Government is providing urgently-needed assistance for victims of flooding in Pakistan, including plane loads of tents, drinking water and blankets.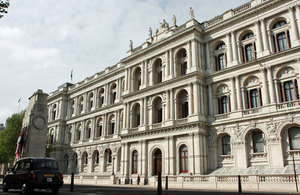 UKaid announced so far will provide help for around one and a half million people in Pakistan affected by the floods.
The UK Government has earmarked up to £31.3 million in response to the UN Pakistan appeal, with £16.8 million so far allocated. In addition to this, a £10 million bridge project has been brought forward.
The UK public has also raised £9.5 million in contributions to the Disasters Emergency Committee (DEC) appeal.
So far the UK Government has provided: 3500 tents, 9032 shelter kits to provide shelter for around 50,000 people, 24,000 water containers, and 48,625 blankets.
Nearly seven million people are critically affected by flooding in Pakistan, within a disaster area the size of England. Floods have destroyed villages, crops and infrastructure and damaged some 290,000 homes. A total of 1,600 people have died.
You can find more details of UK support for flood victims in Pakistan and the bridge project on the DFID website. You can make a donation to the DEC Pakistan appeal on the 24 hour hotline 0370 60 60 900, or at the DEC Pakistan Floods Appeal online.
Published 16 August 2010