World news story
UK-Poland climate and energy co-operation
A senior official at the Department of Energy and Climate Change visited Warsaw on 25 March.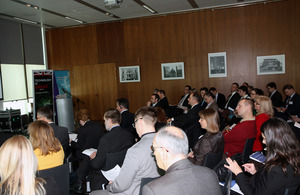 The visit of Phil Wynn Owen (Director General for International Climate Change and Energy Efficiency, Department of Energy and Climate Change) took place ahead of international climate change negotiations COP19 to be hosted by Poland in Warsaw in November.
Director Wynn Owen also delivered a speech on UK climate policy aimed to facilitate low carbon investment during the British-German-Polish low carbon investment debate. The event was organised jointly by the British Embassy and the Polish Confederation of Private Employers "Lewiatan" (CBI equivalent). The debate also saw the launch of a new report "Clean Energy Finance Solutions: Poland", published by the Cambridge Programme for Sustainability Leadership (CPSL) and the Regional Centre for Energy Policy Research (REKK), Corvinus University Budapest.
Published 26 March 2013