World news story
UK pledges further support for Kenya as part of humanitarian response to South Sudan crisis
This was published under the 2010 to 2015 Conservative and Liberal Democrat coalition government
*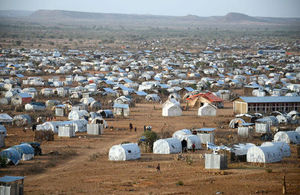 The UK is sending a new package of aid to provide further life-saving support for the hundreds of thousands of people fleeing the humanitarian crisis in South Sudan, International Development Minister Lynne Featherstone announced today during a visit to the country.
There are currently 1.3 million people displaced within South Sudan and more than 400,000 South Sudanese refugees in neighbouring countries. Millions of people are at risk of disease and starvation as the violence has prevented people planting their crops. With the harsh rainy season underway aid agencies have warned there is a serious risk of famine.
The UK is providing an additional £30 million of assistance enabling organisations including UNICEF, the World Food Programme and UNHCR to help South Sudanese refugees in Kenya, Ethiopia, Uganda and Sudan. The UK recognizes the critical role played by Kenya and other countries in welcoming refugees from South Sudan. In Kenya, the UK has released a total of £5.9 million (about Ksh. 852 million) to the World Food Programme and UNHCR to help meet the needs of more than 42,000 newly arrived refugees in the Kakuma refugee camp in Turkana. The funding will deliver food, shelter, toilets, safe water, immunisation and essential supplies such as mosquito nets, kitchen sets and fuel.
International Development Minister Lynne Featherstone said:
"The people of South Sudan are facing a horrifying humanitarian crisis which will only get worse with famine. The extra support from the UK Government will deliver supplies urgently needed by people who have been forced to leave their homes and move to neighbouring countries.
"Ultimate responsibility for the humanitarian situation sits with South Sudan's leaders. The Government and Opposition must act now to stop the fighting, start to build a lasting peace and make every effort to allow aid to reach the people who need it. Until then, the need for basic life-saving services remains crucial and we urge the international community to join us in stepping up support."
Many of the refugees who have fled South Sudan are children who have been separated from the rest of their families and women who have endured sexual violence. The support pledged today will also provide education and recreational supplies for children and protection services for women and children.
The new funding brings the UK's total support for people in South Sudan and refugees from the country since the start of the crisis in December 2013 to £125 million.
Document information
Published: 2 September 2014