World news story
UK plays active role in international space policy
From:

Part of:

Published:

27 May 2015
As the number of actors in space rises, the UK works to ensure the international community develops an appropriate policy framework.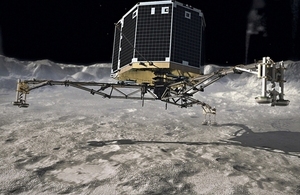 April 2015 saw the end of the 2015 Legal Subcommittee (LSC) of the United Nations Committee on the Peaceful Uses of Outer Space (COPUOS). The LSC is the main international forum for governments to discuss the laws governing outer space and, along with the Science and Technical Subcommittee (STSC) which meets every February, reports directly to the main COPUOS meetings every June.
The UK sent small, but active, delegations to both the LSC and the STSC, drawing delegates from the UK Space Agency, the Department for Business Innovation and Skills, the Foreign Office, academia and the private sector in order to bring together a range of expertise on the topics.
In the STSC the UK continued to work with other UN Member States on a number of key areas of international policy governing outer space activities. One example being the ongoing efforts (started in 2010) for UN Member States to discuss and agree on a set of guidelines promoting the long-term sustainability of outer space activities, from issues of space debris to collaborative space weather research.
Likewise in the LSC, the UK has supported decisions inside the Subcommittee to discuss the emerging complexities of space traffic management and the application of international law on small satellite activities at its next session in 2016. As the number of actors in space continues to rise sharply, the UK is very engaged in ensuring that the international community is able to agree upon an appropriate policy framework.
Speaking during the recent LSC, Richard Blayber, Head of Regulation at the UK Space Agency said:
The UK's focus remains promoting a safe and more secure space environment through a range of measures including increasing our situational awareness, building our resilience to a range of threats and ensuring our regulatory environment is proportionate and effective.
The STSC and LSC report directly to COPUOS (scheduled to convene in June 2015 in Vienna) which is the next time that UN members will come together to discuss policy surrounding the peaceful uses of outer space. COPUOS, in turn, will then report directly to the UN General Assembly's 4th Committee in October, in New York.