UK Pavilion shortlisted for prestigious construction award
The UK Pavilion at the Shanghai Expo was shortlisted the 2010 British Construction Industry Award (BCIA) for an overseas project.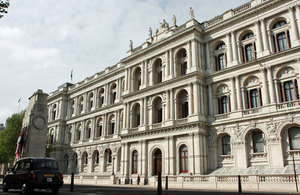 One of the visitors' favourites at the Expo, the distinctive Pavilion was designed by Heatherwick Studio, built by Mace and was chosen to represent the UK at Expo by a panel including the Foreign Office as the lead Government department. The Seed Cathedral sits in the centre of the UK Pavilion's site, 20 metres in height, formed from 60,000 slender transparent rods, each 7.5 metres long and each encasing one or more seeds at its tip.
Making the shortlist for the 2010 British Construction Industry Award (BCIA) is a significant achievement. Foreign Office Minister Jeremy Browne said:
"I am delighted that the UK pavilion made the shortlist for such a prestigious British Construction Industry Award for an international project. I visited the Pavilion in September and it is a remarkable structure which has made a positive impression on how visitors view the UK. Mace were able to convert Thomas Heatherwick's audacious design idea into a physical building which looks extraordinary and has really caught the imagination of the Chinese public."
Published 14 October 2010