World news story
UK pavilion at European Utility Week will promote UK-Austrian collaboration
European Utility Week 2015 offers opportunities for Austrian businesses to contribute to smarter energy use and smart cities in the UK.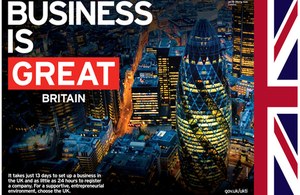 The UK is hosting a pavilion at European Utility Week 2015 taking place in Vienna from 3 to 5 November 2015.
The pavilion will bring together UK businesses, city leaders and thought leaders with Austrian companies and technologies. The aim will be to promote collaboration between the UK and Austria on smart city projects and utilisation of energy.
Benefits of UK pavilion to Austrian businesses
Visiting the UK pavilion at the European Utility week offers a great opportunity for Austrian businesses to:
familiarise themselves with opportunities in the UK smart utilities sector

network with contacts to help introduce their technology into the UK

be introduced to relevant UK companies and technologies, exhibiting at the pavilion

find out more about UK government support for companies in this sector based in the UK
Reception at British embassy
UK Trade and Investment (UKTI) will be hosting a reception on the evening prior to the start of European Utility week at the British embassy in Vienna.
The reception will be an opportunity to network with:
other companies and representatives from industry
government and local authorities from across Central and Eastern Europe (CEE)
UK delegation to European Utility Week 2015
UKTI and BEAMA are organising a UK delegation to showcase UK capabilities in the smart utilities sector. This will focus on smart energy/smart grids and connected homes.
The conference programme will feature British speakers and case study presentations.
UK smart excellence
The UK technology sector is:
at the forefront of using technology to shape new services and organisations

renowned for its creativity and pioneering research and development

ranked first in terms of the impact of ICT on new organisational models

ranked second in terms of the impact of ICT on creating new service and products
The UK is taking a collaborative approach to improve resource consumption and services by bringing together the best minds and technologies.
The smart cities industry is expected to be worth more than $400 billion globally by 2020 and the UK is expected to gain a 10% share. It's estimated that utility companies could save between $7.1 billion and $12.5 billion each year by using smart water solutions.
London is currently ranked in the top 3 smart cities of the world and hosts the Cognicity Challenge which helps to identify and accelerate the development of smart city technologies.
Read more about Investment opportunities in Energy networks in the UK.
Contact UKTI
Contact your local UKTI Investment Team in Austria to find out how we can help you take your smart technology to the UK and grow your UK business successfully.
Published 12 August 2015