World news story
UK Parliamentarians Deliver Workshop in Sierra Leone
Commonwealth Parliamentary Association (CPA-UK) conclude a three-day workshop at the Parliament of Sierra Leone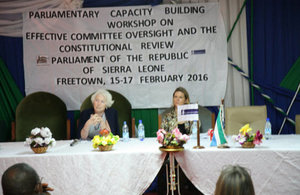 UK Parliamentarians from the Commonwealth Parliamentary Association (CPA-UK) concluded a three-day workshop at the Parliament of Sierra Leone in Tower Hill from 15 to 17 February. At the workshop, Members and Clerks from the UK and Sierra Leone shared best practice on how Parliament could hold the Executive to account more effectively. Participants explored vital Committee functions including information-gathering, developing inquiries and questions; and they discussed the role of MPs in the scrutiny of legislation, and how Sierra Leone's Parliament could engage with the ongoing Constitutional Review process.
The UK delegation was led by the Rt. Hon. Baroness Hayman GBE, the first elected Lord Speaker of the House of Lord (2006-2011); the Rt. Hon. Baroness Blackstone, a Labour peer at the House of Lords; Heather Wheeler MP, the Conservative Member for South Derbyshire; Eve Samson, Committee Clerk at the House of Commons; and Hatty Cooper, the Head of International Outreach at CPA-UK. They were hosted by the Speaker of Sierra Leone's Parliament, Hon. Sheku Badara Basiru Dumbuya, the Deputy Speaker, Hon. Chernor Bah, the Clerk of Parliament, Hon. Ibrahim Sesay, and other notable MPs.
CPA-UK established its parliamentary partnership programme with the Parliament of Sierra Leone in 2011, following a visit to Westminster by the then Acting Speaker Hon. Victor Johnson. During that visit, and in subsequent programmes, Members on both sides identified the demand for a strong partnership between Westminster and the Parliament of Sierra Leone in order to enhance the capacity of Sierra Leone's MPs and parliamentary officials.
Published 18 February 2016