UK Parliament debates Middle East and North Africa
Foreign Secretary William Hague took part in a debate on the Middle East and North Africa in the House of Commons on Monday afternoon.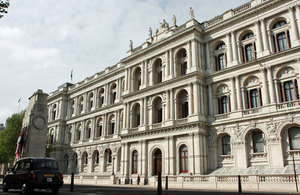 The debate focussed on recent developments in the Middle East, and also covered progress in Afghanistan.
Opening the debate the Foreign Secretary said:
"Our security and prosperity in Britain are indivisible from those of other countries. We cannot seal ourselves off from dangers in other countries or prosper fully alone, and it is against our values–as, indeed, it is against our interests–to stand by while conflict and instability develop. That has been shown to be true time and again in the regions that we are debating today.
Britain could not turn a blind eye when Colonel Qadhafi turned his forces against innocent civilians in Libya, shelling crowds of peaceful protestors and even hospitals crammed with victims, and launching a ferocious campaign of arbitrary detentions, torture and summary executions. This is a country on Europe's southern edge, and a regime that threatened to "exterminate like rats" the people who had risen against it. The Arab League clearly called for help and intervention, which is one of the reasons why we have taken a strong lead in calling for, securing and implementing UN Security Council resolutions 1970 and 1973. Other reasons include the effect on Libya's neighbours and the consequences for migration, terrorism and our own national interest if a pariah state had emerged in north Africa. Our action in Libya has a compelling legal and moral basis, strong regional and international support and a clear objective, and it continues to make progress."
Published 16 May 2011