World news story
UK-Pakistan conference on extradition & mutual legal assistance
The 2-day conference is part of the UK-Pakistan Justice and Accountability Partnership announced by the UK's Home Secretary Sajid Javid during his visit to Pakistan last September.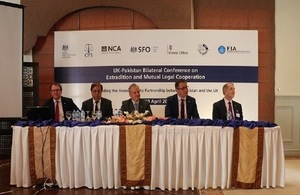 Senior officials attended the conference from the UK's Home Office and Crown Prosecution Service. Pakistan's Attorney General Mr Anwar Mansoor Khan and Special Advisor on Accountability Shahzad Akbar spoke at the conference and were joined by representatives from Pakistan's law enforcement and prosecutorial authorities. The conference focused on tackling international criminality by improving co-operation on extradition and mutual legal assistance.
Speaking about the conference, the British High Commissioner to Pakistan, Thomas Drew, said:
The UK and Pakistan have a deep and enduring partnership. Ensuring that no one can escape justice or act with impunity is a shared priority for our two countries. I am delighted therefore to welcome this senior team of legal, investigative and prosecutorial experts from the UK.

This conference is an important step in the UK-Pakistan Justice and Accountability Partnership. The knowledge shared during these two days will deliver practical benefit to investigators and prosecutors in both the UK and Pakistan in their fight against crime.
Further information
For updates on the British High Commission, please follow our social media channels:
Contact
British High Commission
Islamabad
tel. 0300 500 5306

Published 9 May 2019