World news story
UK & Nigeria – Exchanging Diplomatic Excellence
Members of the Nigerian Ministry of Foreign Affairs 36 + 1, joined their counterparts from the UK's Foreign & Commonwealth Office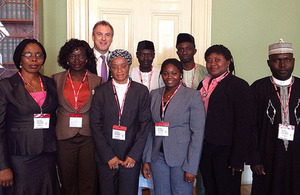 Last week, in London, members of the Nigerian Ministry of Foreign Affairs 36 + 1 (a cohort of promising mid career diplomats) joined their counterparts from the UK's Foreign & Commonwealth Office for joint training in Diplomatic Excellence. The training marks a high point in an ongoing programme between the UK and Nigeria to strengthen and increase cooperation between our respective diplomatic services.
Whilst in the UK the Nigerian diplomats joined their UK colleagues for a week of training across a range of core diplomatic areas such as: high level negotiation; the role of legislators in the oversight of foreign policy; commercial and economic diplomacy; report writing and policy analysis. As well as sharing experiences of their respective Foreign Ministries, those participating also took the opportunity to form long term friendships that will benefit the UK-Nigeria relationship long into the future.
In February 2013 UK Prime Minister David Cameron and President Jonathan reaffirmed their commitment to strengthen the links between our Foreign Ministries. This programme is key to achieving that objective and enjoys strong support of the Permanent Secretary at the Ministry of Foreign Affairs and the Permanent under Secretary at the Foreign & Commonwealth Office.
Simon Fraser, Permanent under Secretary at the Foreign & Commonwealth Office who welcomed the diplomats to London and said:
The UK is delighted to have the opportunity to share examples and practice of diplomatic excellence with our Nigerian diplomatic colleagues. We value strong cooperation with Nigeria on the world stage. Hosting this exchange programme is an important way of learning from one another and building relationships and understanding between our foreign services
Published 11 September 2013