Press release
UK music exports strike a chord on the world stage
Slow Club, Metronomy and Band of Skulls among UK artists receiving government funding to break overseas markets.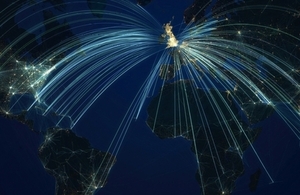 Fourteen talented UK-signed acts will receive financial help to support international touring and promotion, announced the government's Trade Minister, Lord Livingston, today (1 May 2014). They will be hoping to build on the high-charting achievements of British artists such as Bastille, Passenger, London Grammar and Alt-J who all enjoyed breakthrough success overseas in 2013.
The successful applicants from the second round of the Music Export Growth Scheme were revealed as many of the acts prepare to set off on the festival circuit.
Almost £250,000 will be awarded to support artists spanning the worlds of alt-rock, indie, soul, electronic, folk, heavy metal, jazz and hip hop music. Hailing from Newcastle, Liverpool, London, Southampton, Devon, Edinburgh, Sheffield, Leeds and Bristol, the acts that will benefit from the scheme are:
Band of Skulls
Bo Ningen
Charli Taft
Christian Gregory
Dinosaur Pile-Up
Julia Biel
Lulu James
Metronomy
Savage Messiah
Skinny Lister
Slow Club
Smoke Fairies
Transition
Young Fathers
The Music Export Growth Scheme has been established by UK Trade and Investment (UKTI) and the BPI (British Recorded Music Industry) to help small and medium-sized independent music companies promote their artists overseas as part of wider government efforts to get another 100,000 businesses exporting. The first round of funding was distributed to successful applicants across the UK in February 2014 to support activities in North America and Europe.
Trade and Investment Minister Lord Livingston said:
The British music industry is a global success story. From The Beatles to Adele to Mumford & Sons, Britannia rules the airwaves and sells more records around the world than almost any other country.

This exporting strength brings jobs and economic growth to the UK and the Music Export Growth Scheme lets up-and-coming British artists up the tempo on the international stage.
The decision to allocate funding to a specific campaign was taken by a panel of music industry experts, independently chaired by John Kennedy OBE, with advice and guidance from BPI, UKTI, the Association of Independent Music (AIM), the Music Managers Forum (MMF), and representatives from some of the UK's leading independent record labels.
John Kennedy, Chair of the Board for the Music Export Growth Scheme, said:
As we go through these applications it is refreshing and invigorating to see the breadth of talent, enthusiasm, passion and determination. Yet again demand for funds far exceeded our ability to fund which shows how important the monies are but also means that the chosen projects have a responsibility to deliver on their promise as that will help the industry as a whole.
In 2013 the wave of British acts riding high in the charts continued around the world. UK acts accounted for 1 in 10 of all artist albums sold in the US and a quarter (24%) of all European album sales. New artists making an impression overseas in 2013 included London Grammar and Alex Hepburn in Europe whilst Bastille, Alt-J, Passenger and Ellie Goulding charted amongst the Top 30 UK acts proving popular in North America.
Commenting on the potential of the scheme to support UK talent, BPI and BRIT Awards Chief Executive Geoff Taylor said:
Very few countries can boast the same levels of musical excellence as the UK – in 6 of the last 7 years we have produced the world's best-selling album, made chart history in overseas markets and have been responsible for developing the careers of some of the biggest names in music. We break bands who go on to break records.

BPI is at the centre of initiatives to support British artists and music companies and we hope that the Music Export Growth Scheme will help a new wave of British artists to define the sound of success in 2014 and beyond.
The scheme, funded by UKTI, will make up to £2.5 million of grants available over a 2 and a half year period. It was announced in October 2013 at a Number 10 meeting with music executives chaired by David Cameron.
Bo Ningen said:
We couldn't have made this US trip and all the amazing shows out here happen without this export fund. It was a massive help to us and gave us a great opportunity to perform Coachella, 1 of the world's acclaimed music festivals.
Slow Club said:
We've toured America a few times now but it's an expensive business and making it work can sometimes be difficult. Being able to head out there again is really exciting.
Further application rounds will take place periodically over the next 2 and a half years, with the next round opening for submissions on Monday 12 May 2014. Applications are open to all UK music companies meeting the application criteria. Full details can be found at http://www.bpi.co.uk/export-scheme.aspx.
Notes to Editors
1.Approved artist images: https://www.dropbox.com/s/grzkms1856kzufp/MEGS%20Round%202.zip
2.Enquiries about the Music Export Growth Scheme: BPI: Debi Blackgrove, musicexportscheme@bpi.co.uk
3.Media enquiries: * BPI: Lynne McDowell, Head of PR, lynne.mcdowell@bpi.co.uk / 07763 619709 * UKTI: Christina Murphy, christina.murphy@ukti.gsi.gov.uk / 020 7215 5245 and 020 7215 3505 (out of office hours)
4.UK Trade and Investment (UKTI) is the government department that helps UK-based companies succeed in the global economy. We also help overseas companies bring their high quality investment to the UK's economy – acknowledged as Europe's best place from which to succeed in global business. UKTI offers expertise and contacts through its extensive network of specialists in the UK, and in British embassies and other diplomatic offices around the world. We provide companies with the tools they require to be competitive on the world stage. For more information on UKTI, visit www.gov.uk/ukti.
5.BPI represents the UK's recorded music industry, which is 1 of the most exciting and thriving music sectors in the world. British artists account for 1 in 8 albums purchased by fans around the globe. As a trade body, we champion the interests of our membership which includes more than 300 independent music companies and the UK's major record companies. Together, BPI's members account for 85% of all music sold in the UK. BPI organises the BRIT Awards show and the Classic BRIT Awards show from which substantial proceeds go to the BRIT Trust – the BPI's charitable arm – which has donated almost £20 million to charitable causes nationwide since its foundation in 1989.
Published 1 May 2014