UK Ministers witness flood devastation in Pakistan
Speaking during his visit International Development Secretary Andrew Mitchell said that the worst could be yet to come for Pakistan.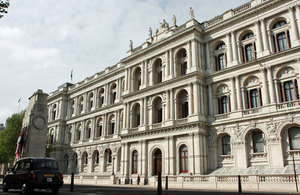 Mr Mitchell made clear the UK was standing by Pakistan and announced a further allocation of UK support which will help fight the spread of disease; shelter displaced families; and provide more support - including food and medical supplies - to provinces in the south of Pakistan. This means that UK aid will now benefit up to three million people affected by the floods.
Secretary of State for International Development Andrew Mitchell and Minister Without Portfolio Baroness Warsi are in Pakistan to see how UK aid is helping those affected by the flooding and to assess if further help will be needed.
Mr Mitchell announced UK support, incorporating a number of programmes to help the particularly hard-hit areas of Punjab and Sindh, which includes:
Tents and plastic sheeting for 15,000 families;
Mobile clinics and other health initiatives to prevent the spread of diseases such as malaria and water-borne diseases;
Speeding up the distribution of emergency aid;
Working to provide food, clean water, medical supplies and shelter to an additional 375,000 people;
Additional flights to deliver aid, including for around 280,000 people in need in inaccessible, mountainous areas innorthern Pakistan.
As part of the UK's contribution, another RAF flight carrying further aid is leaving for Pakistan today.
Speaking from Pakistan, Mr Mitchell said:
'The people of Pakistan need help and they need it now. It is difficult to comprehend the extent of this tragedy. Nothing could have prepared me for the horrific scenes of destruction and devastation I have seen today.
But the worst could still be to come. More heavy rains are expected, and as the River Indus rises, it threatens further damage to heavily populated areas in the south of the country.
The additional help announced today will mean that tens of thousands of people will get food, shelter and medical help. But we need to support Pakistan for the long-term as well as giving short-term relief and I want the people of Pakistan to know the UK is standing by them.'
Following the visit Andrew Mitchell will travel to New York for an emergency session of the UN General Assembly called by Secretary General Ban Ki-Moon. Mr Mitchell will again urge greater international help.
Published 19 August 2010