UK Ministers meet Kenyan Government during first visit to Africa
International Development Secretary Justine Greening and Minister for Africa Mark Simmonds held meetings with Kenyan Vice President and Prime Minister in Nairobi.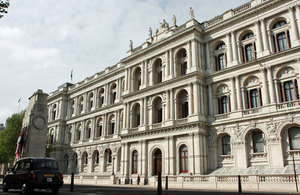 On their first visit to Africa since taking up their new roles last month, the Ministers also held talks with the Kenyan Security Minister Katoo Ole Metito and Chief Justice Dr Willy Mutunga. They discussed a wide range of issues from development and trade and investment to security and Kenya's preparations for elections.
Speaking during the visit the International Development Secretary said:
"I am delighted to be here in Kenya on my first visit as Britain's new International Development Secretary. The UK and Kenya have a close historic relationship which continues to bring benefits for both of us. Today I have seen and heard for myself how we are working with the people of Kenya to help prepare upfront for future disasters, fight malnutrition and help Kenya to grow and prosper."
"Over the next three years, Britain's aid programme in Kenya will include help to support 300,000 boys and girls in primary education, distribute more than five million anti-malarial bednets and help four million more people to access financial services for the first time.
"Earlier in the day, while Ms Greening visited the Turkana region in the north of Kenya, Mr Simmonds also met the Kenyan Foreign Minister Professor Sam Ongeri, Minister for Trade Moses Wetangula and the Attorney General Githu Muigai, and held discussions with business leaders.
The Minister for Africa said:
"I am pleased to be visiting Kenya for the first time as Minister for Africa. During our discussions today, I have been struck by the great number of interests that the UK shares with Kenya. I look forward to helping to develop our partnership via our prosperity agenda, including through increased trade and investment which will benefit both the UK and Kenya creating jobs and wealth.
"Amongst other issues, we have discussed security, including the tragic attack on a Sunday school in Nairobi last weekend. This was a brutal and outrageous act on innocent children which the UK utterly condemns. We have also discussed Kenya's preparations for the elections due to be held on 4 March 2013. Like all Kenyans, the UK above all wants the elections to be credible, safe and fair. I want to emphasise that we are of course impartial. Our job is not to back any one candidate over the other. It is not who wins but how they win."
Published 2 October 2012