Press release
UK Minister welcomes peaceful Kurdistan Regional Elections
Foreign Office Minister Alistair Burt has congratulated Kurdistan on successful parliamentary elections.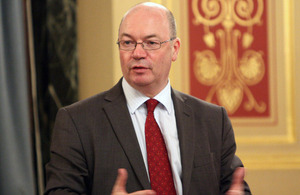 Speaking after peaceful regional elections in the Kurdish area of Iraq, Minister Burt said:
I congratulate all those involved in the parliamentary elections in Kurdistan on 21 September. The efficient and professional organisation was impressive, as was the high voter turnout, at 73 percent. In particular, the Kurdish government and the Iraqi High Electoral Committee are to be applauded for their work.
I encourage all those who were elected now to focus on the timely formation of a new government, in order to move smoothly in the new parliamentary term and to build on the significant achievements of the Kurdish Region.
These elections are a important milestone. I now look ahead to the Kurdish Region's Governorate Council elections scheduled for 21 November, and Iraqi parliamentary elections in early 2014, which I hope will be similarly successful.
Further information
Follow the Foreign Office on twitter @ForeignOffice
Follow the Foreign Office Travel Advice on twitter @FCOtravel
Follow the Foreign Office on facebook and Google+
Published 24 September 2013