World news story
UK Minister of State for Trade and Investment in Croatia
Lord Green, the UK Minister of State for Trade and Investment, visited Croatia only three weeks after Croatia's accession to the EU.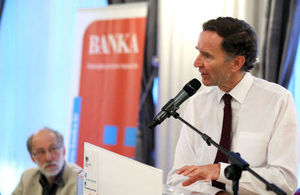 Croatia's EU Accession ''changes the equation for investors for the better,'' Lord Green, UK Minister for Trade and Investment, said during his visit to Zagreb. However, Croatia, as any other country has to ''offer a policy and decision making framework which is both transparent and clear.''
Lord Green, who has helped to increase the level of foreign investment into the UK during his tenure, came to Croatia less than a month after the country joined the EU, underlining the commitment of the UK to developing a new partnership with Croatia.
In meetings with Ministers and in a lecture to economists, businessmen and opinion makers, Lord Green said:
Croatia, the UK and the EU need to reform quite significantly in order to be competitive in this new, exciting, global developing business world. Key to this is the completion of the Single Market for goods and services, and also the digital Single Market.
The Minister also attended a reception at the Ambassador's Residence for British business representatives based in Croatia, as well as Croatian business people and economists.
Published 25 July 2013