UK Minister meets with the Organisation of the Islamic Conference
Cabinet Minister Baroness Warsi met today with the Secretary General of the Organisation of the Islamic Conference (OIC).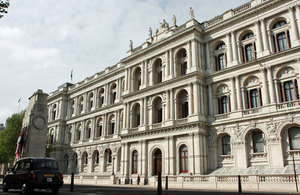 Baroness Warsi's meeting with Secretary General Professor Ekmeleddin Ihsanoglu included discussion of the many common areas of interest between Britain and the OIC.
The meeting coincided with the decision by Foreign Secretary William Hague to appoint the UK's first Special Representative to the OIC. The position will be held by the current British Consul General in Jeddah, Kate Rudd.
Following the meeting Baroness Warsi, the first female Muslim Cabinet Minister in the UK, said:
"I am delighted to have met Professor Ihsanoglu. We had a warm and productive meeting to discuss the many issues where we share common goals with the countries of the OIC. The appointment of a Special Representative to OIC is one way that we can work more closely with this important organisation. The Prime Minister and the Foreign Secretary have both emphasised the importance we attach to Britain's relationships with the countries of the Gulf, the Middle East and the wider Islamic world and we look forward to cooperation with the OIC over the years to come".
Search the news archive
Published 23 June 2010