UK Minister for Europe visits Bosnia and Herzegovina
Minister for Europe David Lidington will visit Bosnia and Herzegovina (BiH) on 7-8 June to discuss the country's progress towards EU accession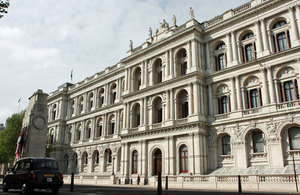 Rt Hon David Lidington MP
Speaking ahead of the visit, the Minister for Europe said:
'The UK Government is strongly committed to assisting the government of Bosnia and Herzegovina in the reforms necessary for EU accession. The British Government is disappointed by the slow pace of government formation in Bosnia and Herzegovina. Every month of delay is a wasted month in terms of reform progress and it increases the risk of Bosnia and Herzegovina falling further behind its neighbours on the EU track. We want to see effective governments formed as soon as possible, that have the capacity and political will to take forward EU-related reforms. We hope the political leaders in BiH will focus on this objective and on the dialogue and negotiations needed to achieve it. I am convinced the most effective way forward is through constructive dialogue - not through institutional blockades and manoeuvres. I hope that is what we will see in the next few weeks and this is what I am going to say in my meetings with Bosnian officials.'
During his stay, the Minister for Europe will meet with BiH Presidency members, the Minister of Foreign Affairs, BiH Parliament House of Representatives Collegium, the High Representative/EU Special Representative to BiH and Principal Deputy High Representative, NGO representatives and young opinion formers from Bosnia and Herzegovina to discuss the progress of Bosnia and Herzegovina on its path to the EU.
He will pay a visit to the International Commission for Missing Persons (ICMP) where he will witness firsthand the extraordinary work done by ICMP in support of international and regional judicial processes.
This is the Foreign Office Minister's first official visit to Bosnia and Herzegovina since taking up the role of Minister for Europe in May 2010.
Published 6 June 2011