World news story
UK Minister for Africa Rory Stewart visits Zambia
Minister Stewart is visiting Zambia to see how the UK is supporting growth in Zambia and working towards shared prosperity for both countries.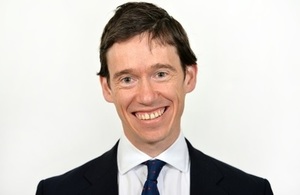 Speaking ahead of his visit to Zambia, UK Minister for Africa Rory Stewart OBE said:
Zambia has been an important friend and partner for the UK for many decades.

I'm looking forward to working closer with Zambia, as the UK helps Zambia to tackle some of the biggest issues facing the region and helps build economic prosperity to boost future growth.
During his two-day trip, the first since his appointment, minister Stewart will hold meetings with President Edgar Lungu, the Minster for Foreign Affairs, local government officials in Mumbwa and the international community.
Mr Stewart will see first-hand the transformational results of UK aid and will meet beneficiaries to hear how this support has changed their lives. He will also use this visit to discuss the future of Zambia's relationship with the UK.
He will visit various projects supported by the UK around Lusaka and in Mumbwa district. These include seeing how the UK is strengthening the delivery of basic services such as water and sanitation, and support to small and medium enterprises to promote economic diversification.
Further information
UK aid in Zambia (by 2020):
We are helping improve the nutrition of over 2 million women, babies and children
Giving almost half a million more women choice about the size of their family by providing access to modern methods of family planning
Providing 3 million people with access to better sanitation
Supporting 56,000 children to gain a decent education
We have also created 4000 jobs to help people lift themselves out of poverty and will create a further 23,000 by 2020
We are also increasing stability and strengthening institutions by helping Zambians hold their government to account and ensuring it increasingly provides for its people long-term and resulting in less reliance on external aid
You can find further information on these statistics, and on UK aid activity in Zambia, here

Rory Stewart is the joint Minister for Africa for both the Foreign and Commonwealth Office and the Department for International Development. He was elected Conservative MP for Penrith and The Border in the UK in May 2010. You can find more information here
For more information contact: Alfred Kapalayi on +260 211 423200
Published 5 October 2017