Press release
UK minister congratulates Cambodian people on 25th Anniversary of the Paris Peace Agreements
Minister Sharma's statement on the anniversary of the Paris Peace Agreements that set in motion a peace process in Cambodia.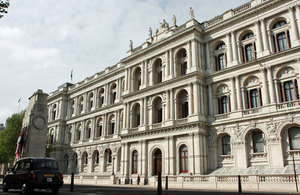 Minister for Asia and the Pacific, Alok Sharma, said:
25 years ago the United Kingdom was one of 19 co-signatories of the Paris Peace Agreements, setting in motion a peace process in Cambodia following 2 decades of civil war, and the devastation inflicted by the Khmer Rouge regime. On behalf of the UK Government I congratulate the Cambodian people on the remarkable progress they have made since 1991 in economic growth, reducing poverty and attaining key development goals despite considerable challenges.

The UK played an important role as a permanent member of the Security Council in support of the Agreements and the historic and unprecedented creation of the UN Transitional Authority in Cambodia. We continue to support Cambodia's development to this day. Our assistance is currently focused on funding de-mining efforts, and supporting the efforts of the Extraordinary Chambers in the Courts of Cambodia (ECCC) to bring to account the surviving leaders of the Khmer Rouge regime.

On this important anniversary the UK government calls on the Royal Government of Cambodia to ensure respect for, and observance of, human rights and fundamental freedoms as provided for in the Agreements.
Further information
Published 23 October 2016