Press release
UK minister condemns Russia's domestic violence law
Russia's new legislation sends the wrong message about tackling violence against women and children.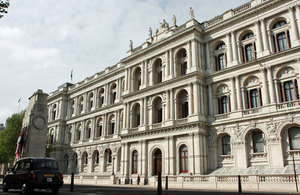 On 7 February the Russian government passed into law an amendment which decriminalises domestic violence in Russia. It reduces 'battery within the family' from a criminal to an administrative offence, with weaker sanctions for offenders.
Baroness Anelay, Foreign and Commonwealth Office Minister for Human Rights and the Prime Minister's Special Representative for Preventing Sexual Violence in Conflict said:
It is deeply disappointing that Russia has introduced new legislation decriminalising domestic violence. This sends the wrong message about the Russian authorities' commitment to tackling violence in the home. Victims of domestic violence, which are most often women and children, need more protection, not less.
The UK is committed to addressing domestic violence, and particularly violence against women and girls at home and overseas. Globally, one in 3 women will experience physical or sexual violence at some point in her lifetime. A 2008 report issued by the Russian Ministry of Foreign Affairs suggested 14,000 women die annually at the hands of husbands or other relatives and that domestic violence occurs in one in 4 Russian families.
Tackling violence; promoting gender equality; and empowering all women and girls are essential to defending human rights. The Foreign and Commonwealth Office is supporting women's rights projects across 28 countries with a total projected spend of more than £3.5 million between 2016 and 2018.
Further information
Published 8 February 2017