News story
UK-Mexico partnership: apply for business funding
UK businesses are invited to partner with Mexico businesses and apply for a share of £6 million for projects that address major challenges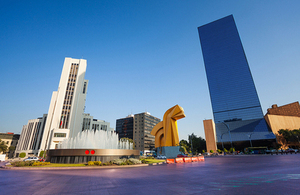 Innovate UK and the National Council of Science and Technology of Mexico (CONACYT) are to jointly invest in innovative research and development projects in agroindustry, energy and health.
The aim is to bring together businesses, academics and research organisations in both countries for research and development aimed specifically at the Mexican market.
Investment in the competition has been made possible by the UK Department for Business, Innovation and Skills-managed Newton Fund, which aims to build research collaborations between UK business and those in lower and middle-income partner countries.
Mexico was the 15th largest world economy in 2014 with a GDP of $1,260 billion. UK Trade & Investment (UKTI) has 4 offices and more than 30 staff in Mexico, and is working closely with the Mexican government to double the UK's bilateral trade to £4.2 billion by 2015.
This competition will support business-led projects that can deliver innovative solutions to critical challenges Mexico faces in agroindustry, energy and health. Projects could be in areas such as:
access to clean energy
improving security of energy supply
carbon abatement
tackling emerging diseases of national relevance
food security and nutritional challenges
downstream food processing
Projects will need to demonstrate they will have a positive impact on both economic development and social welfare in Mexico.
Competition information
projects are open to UK companies of any size, which must work with a Mexican partner
non-business UK partners including research organisations may join projects
small businesses could receive up to 70% of their costs, medium-sized businesses 60%, large businesses 50%
we expect total UK project costs to be between £450,000 and £850,000 and for projects to last 12-24 months
the deadline for registration is noon on 7 October 2015
a recorded briefing will be available shortly for potential applicants after they have registered
Published 25 June 2015