UK medics to help save lives of more mums and babies
UK doctors, midwives and medics will train over 17,000 health workers to provide emergency care for mothers and newborns across Africa and Asia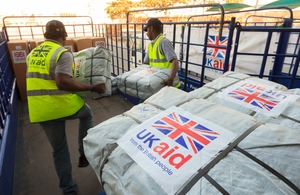 Doctors, midwives and medics from across Britain will help save the lives of many thousands of mothers and babies in Africa and Asia by training health workers in some of the world's poorest countries.
More than 17,000 health workers will be trained by UK volunteers to provide emergency care for mothers and newborns, with new support from UK aid.
The British-backed 'Making It Happen' scheme teaches lifesaving skills for dangerous pregnancies and wider health issues to local medical workers.
Video: Making It Happen in Sierra Leone          (C) SafeHands for Mothers
It is designed to improve delivery care and reduce the shocking number of lives lost in pregnancy and childbirth.
By 2011, it helped to skill up over 2,700 medical staff during a trial phase across five countries: Bangladesh, Kenya, India, Sierra Leone and Zimbabwe.
New support from the British Government announced today will expand the scheme to an additional seven countries, including: Pakistan, Nepal, Malawi, Ghana, Tanzania, South Africa, Nigeria.
It is expected that the expanded scheme will help to save more than 9,500 mothers' lives, nearly 10,400 newborn babies' lives and prevent over 190,000 maternal disabilities from pregnancy and childbirth.
Each year around a third of a million women around the globe die from complications arising from pregnancy and childbirth. Worldwide, there are about four million neonatal deaths and three million stillbirths annually. Three-quarters of all of these deaths occur in South Asia and sub-Saharan Africa.
Announcing the new funding Development Minister Stephen O'Brien said:
It is an international scandal that around the world, one thousand women die every day in pregnancy or childbirth. Nobody should die or suffer ill health because they are pregnant and too poor to afford treatment.

The expertise and skills of British health workers are envied the world over. Together, they are a vital part of our work to reduce infant and maternal mortality in the world's poorest countries.
The Making It Happen initiative takes experienced medical workers from Britain who volunteer their spare time. It connects them with workers in developing countries and designs tailor-made programmes based on the countries' needs.
More than half a million women have received better care as a result of Making it Happen over the last three years and the rate of maternal deaths reduced in all of the five countries it has been launched in so far.
The increased availability and quality of skilled birth attendance and Emergency Obstetric Care resulted in a 20-30% reduction in the number of women dying and almost 15% reduction in stillbirth rates.
The initiative is part of Britain's commitment to improve maternal and newborn health. By 2015, UK aid will:
Save the lives of at least 50,000 women in pregnancy and childbirth and 250,000 newborn babies
Support at least 2 million safe deliveries, ensuring long lasting improvements to maternity services, particularly for the poorest 40%.
The scheme draws on the expertise of medics from the Liverpool School of Tropical Medicine and the Royal College of Obstetricians and Gynaecologists.
It is run in close collaboration with the Ministry of Health in each of the countries it operates in, as well as key partners including UNICEF, the World Health Organisation and United Nations Population Fund (UNFPA).
Published 15 March 2012