UK-Malaysia partnerships: Apply for innovation funding
UK organisations can partner with Malaysian ones to apply for £14.4 million for projects that solve climate change problems in cities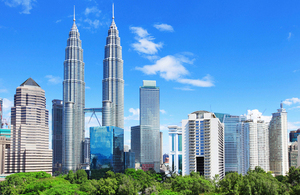 Innovate UK, Research Councils UK (RCUK) and the Malaysia Industry-Government Group for High Technology (MIGHT) are to jointly invest in innovative research and development projects that address the impact of climate change on urbanisation in Malaysia.
The aim of the competition is to bring together businesses, research and technology organisations, academics, public sector bodies and charities from both countries to develop innovative products, processes or services.
Projects must aim at the Malaysian market and address critical challenges in 5 sectors:
health and well-being
improving environmental resilience and energy security
future cities
agritech (used to solve explicit urban food and nutrition issues)
digital, innovation and creativity
Projects will need to show they will have a positive impact on both economic development and social welfare in Malaysia.
The UK investment has been made possible by the UK Department for Business, Innovation and Skills-managed Newton Fund, which aims to build research collaborations between UK business and those in lower and middle-income partner countries.
The programme brings together Innovate UK, RCUK and MIGHT in a new programme called Research and Innovation Bridges.
Competition information
up to £7.2 million is available for UK organisations and the equivalent amount for organisations in Malaysia
projects must be collaborative and involve at least one UK business, one UK research organisation, one Malaysian business and one Malaysian research organisation
projects can be led by a business or research partner on the UK side
small or micro businesses could attract up to 70% of their eligible costs as grant, medium-sized businesses 60% and large businesses 50%
research organisations could receive up to 50% of their eligible costs as grant
we expect total UK participant costs for each project to be between £1 million and £1.75 million and for projects to last between 24 and 34 months
the deadline for registration is noon UK time on 30 September 2015
one application should be submitted in English via the Innovate UK competition website on behalf of all partners by either the UK or Malaysian lead partner
a briefing webinar will take place on a date to be advised on the competition web page
Published 1 July 2015