World news story
UK Lord Speaker, Kolkata Mayor launch climate change toolkit
The toolkit is part of a continuing British engagement with Kolkata Municipal Corporation which aims to make Kolkata a climate smart city.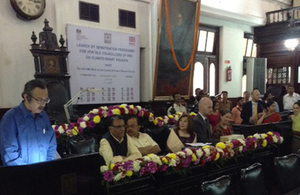 Rt Hon. Baroness D'Souza CMG, the Lord Speaker of the House of Lords, and Hon'ble Mayor of Kolkata, Sovan Chatterjee, launched a first-of-its-kind sensitisation toolkit on climate change for Kolkata Municipal Corporation Councillors in Kolkata on Tuesday 17 February. The toolkit is part of a continuing British engagement with KMC which aims to make Kolkata a climate smart city.
The UK is working with municipalities, urban local bodies and other agencies across India towards low carbon and climate resilient development of cities. Kolkata is a leading city in this programme. This initiative is part of the multi-sectoral programme under the UK-KMC Memorandum of Understanding (MoU) on low carbon and climate resilient Kolkata signed in November 2013 during the UK Prime Minister's visit to Kolkata. The UK government is providing technical assistance of up to £1 million to implement this MoU.
The toolkit consists of:
a graphic booklet on climate change meant to sensitise councillors on climate smart cities
a compendium of case studies of climate-friendly community outreach initiatives from across India, including examples from Kolkata
a manifesto towards a greener city for councillors
This toolkit will be part of 15 borough level workshops which will be implemented by climate change experts and consultants from June-December 2015. The workshops will be organised to:
help deepen the knowledge of climate change and sustainable city development of the councillors of KMC
help councillors engage with wider community to address climate change and other ward-specific environmental issues
help elected representatives engage with NGOs, CBOs, educational institutions, local groups to take action on development of green wards
help create sustainable economic opportunities for women and local youth
This two-year project, expected to end in December 2015, has strong replicability potential and has been built on past and existing initiatives in the state by the UK government towards sustainable development of West Bengal, such as low carbon street lighting, and fiscal instruments for climate-friendly development of the state. The joint initiative with KMC will also draw lessons from existing work like the report by the Centre for Low Carbon Futures that aims to stimulate major investments for improving clean energy supply for the city.
The initiatives with the Kolkata Municipal Corporation will help Kolkata reduce greenhouse gas emissions, respond to the impacts of a changing climate, and generate new sustainable economic opportunities while contributing towards green growth of the city.
Further information:
Kolkata is extremely vulnerable to climate change, since it is exposed to sea level rise, flooding and climate-induced disasters. Also the unprecedented scale and speed of urbanisation is fast emerging as an enhancer of the risk. The British Deputy High Commission Kolkata has been working closely with the Kolkata Municipal Corporation to address these issues through innovative tools and policies.

UK-KMC MoU:
During Prime Minister David Cameron's visit to Kolkata on 14 November 2013, UK Minister for Energy & Climate Change Greg Barker signed a Memorandum of Understanding with the Mayor of Kolkata Municipal Corporation. The UK government is providing technical assistance of up to £1 million to implement this unique initiative.
The MoU covers the following three broad areas:
preparation of a roadmap for low carbon and climate resilient development of Kolkata
strategies to strengthen institutional capacity of KMC to implement the roadmap and improve overall governance in response to the challenges and opportunities of climate change and
sensitisation programme for members of the Mayor-in-Council and councillors of KMC on green growth of the city (including the toolkit).
Other areas outlined under the MoU such as linking up of research institutions on innovations, interchange of experts, mobilising private investment through public-private partnerships, collaborations between businesses, industry bodies and corporations on green infrastructure will be addressed in the coming months.
The objective of this component is to help elected representatives of local governments play a strategic role in addressing climate change while delivering basic municipal services, formulating and implementing climate friendly regulations, and responding to environmental challenges and climate impacts. The toolkit has been designed to enhance their understanding about climate change and how they can contribute towards building a climate smart city.
Stuart Adam, Head,
Press and Communications
British High Commission, Chanakyapuri
New Delhi 110021
Tel: 44192100; Fax: 24192411

Mail to: Mainak De
Follow us on Twitter, Facebook, Flickr, Storify, Eventbrite, Blogs, Foursquare, Youtube
Published 17 February 2015