World news story
UK leads the global antibiotics revolution
Jim O'Neill presents final recommendations to defeat the rising threat of superbugs.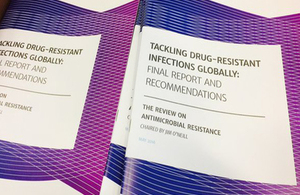 Lord Jim O'Neill's global review on anti-microbial resistance (AMR) presented the its final recommendations, providing a comprehensive action plan for the world to prevent drug-resistant infections and defeat the rising threat of superbugs – something that could kill 10 million people a year by 2050, the equivalent of 1 person every 3 seconds, and more than cancer kills today. Building on eight interim papers, this is the final report from Lord O'Neill's review, established by the UK Prime Minister David Cameron in 2014 to avoid the world being 'cast back into the dark ages of medicine'.
The report sets out why AMR is such a huge problem and that it must be tackled. AMR is a problem that is getting worse. Antimicrobial drugs are becoming less effective and the world is not developing enough new ones to keep up.
It sets out 10 areas where the world needs to take action to tackle AMR. Many of these measures focus on how we can reduce the unnecessary use of antimicrobials, and so the rate at which resistance increases, making our current drugs last longer. Others look at how we can increase the supply of new antimicrobial drugs because, even if we reduce unnecessary use, our arsenal to defeat superbugs is running out and needs to be replenished. The final report and recommendations are available here.
Speaking about the report, Lord Jim O'Neill, Chairman of the review on AMR, said:
My review sets out a workable blueprint for bold, global action to tackle this challenge. The actions that I'm setting out today are ambitious in their scope – but this is a problem which it is well within our grasp to solve if we take action now. I call on the governments of the G7, G20 and the UN to take real action in 2016 on the ten proposals made by my review, to avoid the terrible human and economic costs of resistance that the world would otherwise face.
Narendra Modi, Prime Minister of India, said:
We are committed to prevent, contain and combat anti-microbial resistance. India has taken a number of steps to combat anti-microbial resistance. A national programme on containment of anti-microbial resistance is being implemented. The National Centre of Disease Control and the Indian Council of Medical Research are engaged in anti-microbial resistance surveillance. We have placed restrictions on the sale of antibiotics by making necessary statutory changes. A campaign has been launched to increase awareness regarding anti-microbial resistance, along with national treatment guidelines for antibiotic use. The prevention and containment of anti-microbial resistance requires multi-sectoral and multi-stakeholder action. India is committed to fully support global efforts to prevent and contain anti-microbial resistance.
Further information:
AMR or 'antimicrobial resistance' is the term used to describe drug-resistant infections, sometimes referred to as 'superbugs'. Antimicrobials include antibiotics (which act only on bacteria), antivirals, antiparasitics and antifungals.

the report, tackling drug-resistant infections globally: final report and recommendations, will be published on the review's website on Thursday 19 May.

the UK Prime Minister, David Cameron, commissioned the review on Antimicrobial Resistance in July 2014 to address the growing global problem of drug-resistant infections. It is chaired by Lord Jim O'Neill and backed by the Wellcome Trust and the UK government.

Lord Jim O'Neill is the current Commercial Secretary to HM Treasury, as well as the chairman of the review on AMR. He is an internationally published economist and until 2013 was chairman of Goldman Sachs Asset Management, having previously been the organisation's Head of Economic Research. Before chairing the review on Antimicrobial Resistance, he led the Cities Growth Commission which played a central role in the government's decision to devolve significant new powers to large urban centres in the UK starting with Manchester and the Northern Powerhouse project. He is particularly well known for his work in relation to developing and middle-income economies, having coined the BRIC (Brazil, Russia, India, China) acronym – meaning that he is especially well-placed to understand the broad range of international interests raised by antimicrobial resistance.

before this final report, the review published a series of interim papers covering different parts of the AMR problem, all of which are available on our website here.

The Wellcome Trust is a global charitable foundation that spends more than £700 million a year on advancing human and animal health. It is the second highest-spending charitable foundation in the world, after the Bill and Melinda Gates Foundation, investing principally in biomedical science, the medical humanities and public engagement. The trust is providing part-funding for the work of the review, and hosting the team at its London headquarters.
For media queries, please contact:
Stuart Adam, Head,
Press and Communications
British High Commission, Chanakyapuri
New Delhi 110021
Tel: 44192100; Fax: 24192411

Mail to: Sakthy Edamaruku
Follow us on Twitter, Facebook, Flickr, Storify, Eventbrite, Blogs, Foursquare, Youtube, Instagram, Vine, Snapchat @UKinIndia, Periscope @UKinIndia