Press release
UK leads EU fuel ban for Syrian regime air attacks
Minister for the Middle East Tobias Ellwood welcomes the EU's agreement to a UK-proposed ban on jet fuel exports to the Syrian regime.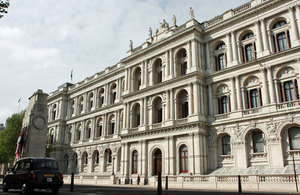 The UK has campaigned to take this step as jet fuel enables the Syrian regime's air force to kill its own people, including with barrel bombs.
Minister for the Middle East Tobias Ellwood said:
We must do all we can to stop Assad killing his own people. More than 200,000 Syrians have died and many more have been maimed or injured. A significant number of innocent civilians – children, women and men – have died because the Assad regime's air force has deliberately dropped weapons, including barrel bombs. This measure will ensure that no EU people or companies will be involved in jet fuel going to Syria. I urge all nations to ban jet fuel going to the Assad regime.
Further information
Follow Foreign Office ministers on Twitter:
Published 12 December 2014