UK launches National Action Plan on Women Peace and Security
On the International Day for the Elimination of Violence Against Women, the Foreign Secretary made a statement on the launch of the UK's National Action Plan on Women, Peace and Security.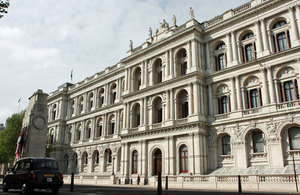 Foreign Secretary William Hague said:
"Ten years ago, the UN Security Council agreed Resolution 1325 and we committed to reduce the impact of conflict on women and girls and to promote their inclusion in conflict resolution. Ten years on, there is clearly more to do. Our new National Action Plan sets out how we will pursue progress through a range of initiatives and through incorporating our commitments into our diplomatic, defence and development activity.
"The key commitments are:
to make 'Women, Peace and Security' an integral part of our conflict policy, including through providing specialised training to civilian and military staff; placing women at the front and centre of our development policy; and the deployment of female military personnel as 'Female Engagement Officers' in support of UK battle groups to improve military engagement with female Afghan civilians;
to implement specific action plans for priority countries, starting with Afghanistan, Nepal and DRC; and
to strengthen the action taken by the international community, including by taking a strong advocacy role at the United Nations and supporting the enhancement of UN structures that assist women in conflict. "Revision of the National Action Plan has been carried out by the Foreign & Commonwealth Office (FCO), Ministry of Defence (MOD) and the Department for International Development (DFID), in consultation with civil society, particularly the civil society coalition group: Gender Action for Peace and Security (GAPS).
"The plan will be reviewed annually, incorporating feedback from civil society focus groups. Progress will be reported to Parliament and civil society through the Associate Parliamentary Group on Women, Peace and Security. A full evaluation of the plan will be carried out after three years."
The launch of the Action Plan coincides with the appointment of Home Office Minister and Parliamentary Under-Secretary of State for Equality Lynne Featherstone as Overseas Champion to lead on the UK's international work.
Published 25 November 2010