World news story
UK launches its 6th British Week in Guatemala
This was published under the 2010 to 2015 Conservative and Liberal Democrat coalition government
The possibility to participate in a classic British tea party, a traditional family day with activities for all ages, or the opportunity to win an English language scholarship are just some of the activities that will make up a packed programme of events during the 6th British Week in Guatemala.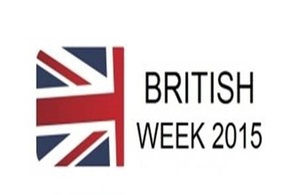 The aim of this year's British Week is to keep building on the strong ties between the United Kingdom and Guatemala, by exploring some of the key traditions Britain has to offer. These include: classic British cuisine, all-time music favourites, and on a more serious level, the defense of human rights.
British Week will start from 23 February with a radio festival playing the best of UK bands and solo artists. And from 1 to 7 March a non-stop marathon of activities will invite the Guatemalan public to enjoy a family fun day, a debate around the death penalty, a festival to highlight women's and girls' rights, the opportunity to take part in a classic British tea party, or to attend a flamboyant Charity Ball.
And for the first time British Week will award ten online English language scholarships, with the support of the International Business Academy. Applicants from all over the country are welcome to participate, as the language training will be delivered on-line with flexible schedules.
To mark the event, the British Ambassador in Guatemala, Sarah Dickson, said:
I am very pleased to launch our British Week 2015 today. I hope that the events we have planned will provide Guatemalans with an opportunity to learn more about the UK: our great culture, music, language and creativity. There are many positive things in our bilateral relationship now. But we are not resting on our laurels. We want our relationship to continue to grow. I hope you will join us in the events we have planned.
For more information please visit:
Music
23 -27 February
FabuStereo 88.1 FM KissFM 97.7 FM y Atmósfera 95.5FM
Modern and classic British music. Interviews and information about our week
Family Fun Fair
Sunday 1 March 9 AM
Pasos y Pedales, Avenida La Reforma, Plaza de Los Arcos
Games, raffles and interaction with NGOs working in Guatemala
Human Rights
Monday 2 March 5.30 - 7.30 PM
Auditorium Milton Friedman, Universidad Francisco Marroquín
Questions at 2380-7309
An inter-university debate on the death penalty in Guatemala.
We want to hear your views!
Women's rights
Tuesday 3 March 10 AM
San Pedro Carcha, Alta Verapaz, Casco Municipal
Festival against violence, parades, games and workshops for young people
British Cuisine
Wednesday 4 March
INTECAP, for students of the institute only
A well-renowned chef will prepare the best meals for students at INTECAP
British Community
Wednesday 4 March 6.30 PM
Mono Loco, Plaza Obelisco, Zona 10
A gathering for British nationals living and visiting Guatemala
Please register to this event consular.guatemala@fco.gov.uk
The Queen's Birthday Party
Thursday 5 March
British Residence, by invitation only
An opportunity to celebrate the excellent relations between Guatemala and the UK
Business roundtable
Friday 6 March 9 - 12 AM
AGEXPORT
To register for this free event please call 2380-7315
Limited availability
Meet some of the most acclaimed brands from the UK's drink and food sector
British Tea Afternoon
Friday 6 March 3 - 6 PM
British Residence, to register for this free event please call 2380-7311
A traditional tea party that will bring the best of UK biscuits, tea and other delicacies
Limited availability
British Charity Ball
Saturday 7 March 7 PM
British Residence, to buy tickets for this event please call 2380-7320
A ball inspired by Willy Wonka with first class food and music. Funds will go to charity
Education
The application process in now closed
English language scholarships courtesy of the International Business Academy
Winners will be announced on 2 March and invited to the Queen's Birthday Party. More information 2380-7336
Document information
Published: 10 February 2015