Press release
UK launches first national CERT
CERT-UK, the UK's national Computer Emergency Response Team, will manage and prepare for national cyber security incidents.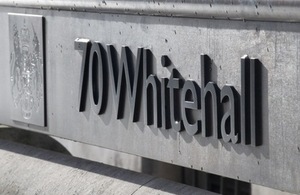 The Rt Hon Francis Maude MP launched CERT-UK, the UK's national Computer Emergency Response Team, with industry representatives and international partners this morning (Monday 31 March). CERT-UK will take the lead in coordinating the management of national cyber security incidents and will act as the UK central contact point for international counterparts in this field.
CERT-UK will work closely with industry, government and academia to enhance UK cyber resilience. This includes exercising with government departments and industry partners, sharing information with UK industry and academic computer emergency response teams and collaborating with national CERTs around the globe to enhance our understanding of the cyber threat.
Delivering another pillar of the National Cyber Security Programme, the Cabinet Office Minister responsible for Cyber Security, Francis Maude said:
This government's most important task is to protect our security and ensure Britain is a safe place to work, live and do business. That's why I'm delighted to launch the UK's Cyber Emergency Response Team.

We know government cannot do everything by itself. CERT-UK shows we want closer coordination between government, business and academia to share insight and advice, as well as better cooperation with our international partners.

The job of protecting our security will never be done – it will always be a work in progress. But, from today, CERT-UK means we are better prepared, better informed, better connected and ultimately more resilient.
Commenting on the launch, Chris Gibson, Director of CERT-UK said:
The launch of CERT-UK is a milestone in the development of the UK's cyber security capabilities helping the UK to become more resilient.

CERT-UK will build on existing arrangements for supporting the critical national infrastructure, and incorporate the Cyber Security Information Sharing Partnership (CISP) which was launched last year and has proved extremely effective as a means of collaborating between industry and government.
CERT-UK
CERT-UK has been established over the last year. Chris Gibson was appointed director in November 2013.
It has 4 main responsibilities that flow from the UK Cyber Security Strategy:
national cyber security incident management
support to critical national infrastructure companies to handle cyber security incidents
promoting cyber security situational awareness across industry, academia and the public sector
providing the single international point of contact for co-ordination and collaboration with other national CERTs
CERT-UK does not have responsibility for the national infrastructure but will work closely with those companies that run the critical national infrastructure. CERT-UK will provide advice and guidance to help companies prepare and protect themselves, as well as expertise to help respond once an incident is reported.
Contact CERT-UK at enquiries@cert.gov.uk
Cyber Security Information Sharing Partnership (CISP)
CISP was launched in March 2013 as a joint, collaborative initiative between industry and government to share cyber threats and vulnerability information in order to increase overall situational awareness of the cyber threat and therefore reduce the impact upon UK business. The last 12 months have amply demonstrated the value of this collaboration for the benefit of the UK as a whole. CERT-UK will build on this success by providing a permanent home for the CISP team and taking on responsibility for running the dedicated CISP online collaboration environment. CERT-UK will be able to add the international dimension alongside the day to day experience of working with critical national infrastructure companies in handling the incidents they face.
Cyber crime
CERT-UK will work closely with law enforcement organisations across the UK. These organisations remain the focal point for the reporting of all cyber related crime. If you are aware of or suspect an incident of cyber crime you should contact Action Fraud in the first instance.
Members of the public experiencing cyber issues should contact websites such as:
If they suspect a cyber related crime they should contact Action Fraud.
Chris Gibson
Chris Gibson was appointed as Director of CERT-UK on 11 November 2013. Chris joined CERT-UK having previously been the director of e-crime at Citigroup. Chris is an internationally recognised expert on cyber incident response, having been for 9 years on the leadership team of the international Forum of Incident Response and Security Teams (FIRST), with the last 2 as global chair. Chris was a member of the British Bankers' Association (BBA) Cyber Advisory Panel and for 10 years one of Citigroup's representatives to the Centre for the Protection of National Infrastructure's Financial Service's Information Exchange.
Published 31 March 2014