UK lab equipment suppliers explore commercial partnerships at reception in Philadelphia
UK Trade & Investment co-hosted a reception for the UK and US laboratory industries aboard the ship Moshulu.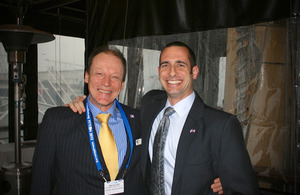 The Moshulu is the world's largest four-masted Scottish ship, as well as a restaurant, and is docked on the shores of the Delaware River in Philadelphia.
The event aimed to help the UK's best lab equipment suppliers explore business deals with US distributors and manufacturers. The US market for lab equipment is a crucial export opportunity for UK companies, as it accounts for nearly 50% of global revenues for laboratory products.
Attendees were welcomed by Vice Consul John Hoggard, who highlighted the value of the US-UK trading relationship, which includes $180 billion of trade goods and services per year. UK trade association GAMBICA teamed with the US-based Laboratory Products Association to co-host the event, which was timed to coincide with PittCon, the premier conference and exposition on laboratory science.
Published 18 March 2013