World news story
UK-Korea infrastructure partnership offers huge opportunities
British Expertise and the International Contractor's Association of Korea sign new MoU to support construction projects.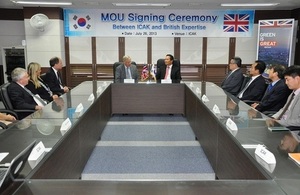 British Expertise and the International Contractors' Association of Korea (ICAK) have signed an MoU (Memorandum of Understanding) pledging to support the growing collaboration of UK consultants and Korean constructors on large-scale, third-country construction projects. It creates joint consortia between ICAK, Korea's only organisation providing multifarious-direct and indirect-support to Korean contractors operating overseas, and British Expertise members. Such ventures are already under way in Burma, and there is promise for cooperation in markets as diverse as Mongolia, the Middle East, and Latin America.
His Royal Highness, the Duke of Gloucester, himself a qualified architect, presided over the signing of the MOU during a 3 day visit to Korea. Third country cooperation between Korea and the UK is booming, and it is set to become one of the key pillars of economic discussions during President Park Geun-Hye's state visit to the UK later this year.
Korea holds a growing global reputation for large scale construction and engineering projects. Engineering, Procurement and Construction (EPC) contractors have delivered over $500 billion of projects in over 130 countries since the 1960s. In 2012 they delivered $65 billion of projects including $37 billion in the Middle East and North African region and $20 billion in ASEAN. The potential for British Expertise and other UK companies is huge.
The MoU signing marks the high-point of an increasingly fruitful relationship between UK Trade & Investment (UKTI) and ICAK. The Lord Mayor of London met with ICAK in April in a round-table discussion of infrastructure funding opportunities, and since then ICAK has hosted 3 events with British partners at the Embassy in Seoul.
ICAK Representative Mr. Woon Joong Kim told UKTI:
I hope the comprehensive construction and engineering partnership between our two nations will create the mechanisms for cooperation in a number of fields such as infrastructure, energy, new city development, and in all construction and engineering areas. In addition, based on the MoU, I look forward to finding new business cooperation opportunities among British and Korean companies both in domestic and global markets.
His Royal Highness offered the signatories his congratulations:
ICAK and British Expertise have done a tremendous job to reach this MoU agreement. I am pleased to emphasise that the UK Government (UKTI) is a proud stakeholder in this achievement. UK professional services play major role in international construction market worldwide and British consulting services in terms of contract management, legal services are known to be best service providers to work with.
UK- South Korea relationship
Seoul and London have exchanged a number of high-profile visitors since the two nations began their formal relationship 130 years ago. This tradition continued with UKTI and the British Embassy hosting His Royal Highness during a 3 day trip in August commemorating the 60th anniversary of the armistice ending the Korean War. As well as a celebration of Britain and Korea's shared history, His Royal Highness was also keen to look towards future fields of cooperation.
Contacts
For more on opportunities in Korea contact the UKTI team in South Korea: Trade.Korea@fco.gov.uk.
Published 27 August 2013