World news story
UK-Korea Green Building Forum
Scott Wightman, British Ambassador to Korea, gave a speech at the opening of the UK-Korea Green Building Forum held on 11 February.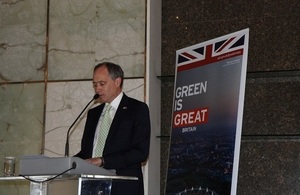 The event was co-hosted by the Ministry for Land, Infrastructure and Transport, the Korea Institute for Construction Technology and the British Embassy in Seoul.
Director General for Construction Policy, President Woo, distinguished guests, ladies and gentlemen. It is a great pleasure to be here for the opening of this inaugural UK-Korea Green Building Forum.
This Forum is one of the new joint initiatives agreed during President Park Geun-hye's State Visit to the UK in November, and I think it's a terrific example of the deepening partnership between our two countries. Working together we can lead efforts on tackling climate change and making the shift to a low carbon global economy. President Park and UK Prime Minister David Cameron share the view that low carbon policies, including on energy efficiency and green buildings, are vital for a competitive and creative economy.
I would like to thank the Ministry for Land, Infrastructure and Transport, and the Korea Institute for Construction Technology, for all of their hard work to make this event possible today.
I'm also delighted to welcome the green buildings mission from the UK, sponsored by UK Trade and Investment, and I'd like to thank all of them for making the time to come to South Korea for this event.
The UK is a world leader in green buildings and design, as well as retrofit. We need leaders from across industry, academia and government to work together to ensure we develop the right frameworks and the right policies for the changes we are trying to make.
So why is the UK working so hard to improve the energy efficiency of our buildings?
First, it will play a significant role in cutting our carbon emissions. In the UK, our Climate Change Act requires us to reduce our emissions by 80% by 2050 against 1990 levels. And with around a quarter of our carbon emissions coming from housing, tackling emissions from this sector is a key part of our strategy to meet the target.
But this is not just about doing what is right for our planet, but doing what is right for our economies too.
The UK firmly believes that the economies which will prosper in the future are those that are the greenest and most energy efficient. In a race for limited resources it is the energy efficient who will win that race. And it is the countries that prioritise the green economy which will secure the biggest share of jobs and growth in a global low carbon sector set to be worth 4 trillion dollars by 2015.
Making our buildings more energy efficient will save individuals and businesses money on their bills, increase profits and drive new investment. It will create a new market for energy efficient products and services, boosting our economies and offering a new source of quality jobs. And let's not forget the potential for social benefits, for better comfort, health and safety for the people and communities living in green homes.
The UK's Green Deal programme, which you will discuss today, is central to our efforts to transform our building stock. It is a hugely ambitious nationwide scheme, and the first of its kind in the world. We see it as a once-in-a-generation opportunity to refit and future-proof our homes.
Today you will be able to hear about the progress we have made in the first year of the scheme, and to discuss lessons we have learned so far. There's lots we can learn from each other, particularly as you develop your own Green Remodelling Scheme here in Korea.
I'm sure you will have excellent discussions today and I wish you all the best for productive conference.
Thank you.
Published 2 February 2014