UK joins Asian anti-piracy agreement
Last week, the UK took another step to protect shipping by joining a regional anti-piracy initiative in South East Asia.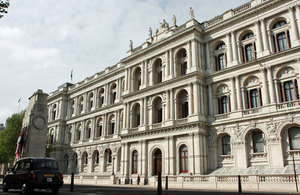 Whilst piracy of the coast of Somalia remains the main source of global piracy, countries from the South East Asia region and around the world are working together to prevent piracy becoming a menace in the seas of that region.
The UK has applied to join the Regional Cooperation Agreement on Combating Piracy and Armed Robbery against Ships in Asia (ReCAAP) which aims to to enhance multilateral cooperation among its seventeen members.
The agreement establishes an Information Sharing Centre in Singapore to faciliate better working between the signatories of the ReCAAP. The centre will allow them to coordinate a more effective collective response to regional piracy and armed robbery against ships.
Minister for Africa Henry Bellingham said:
"I am delighted that the UK has applied to join ReCAAP. Piracy is a scourge that needs to be tackled and the protection of UK shipping around the globe remains a priority for this government.
"International cooperation is the only way to tackle piracy and it is already reaping dividends in the fight against piracy off the coast of Somalia. I am confident that the ReCAAP information sharing centre will continue to demonstrate its effectiveness in improving security at sea in South Asia."
Published 16 March 2012