World news story
UK-Japan Symposium on Health Economics – challenges for economic evaluation in the mental health field -
This was published under the 2010 to 2015 Conservative and Liberal Democrat coalition government
The symposium on health economics was held at the British Embassy in Tokyo.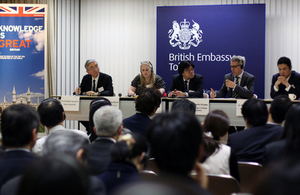 It is expected that the societal and economic burden caused by mental disorders such as depression and dementia will continue to increase, while healthcare resources will become more limited. Therefore, efficient use of limited resources to withdraw maximum output is critical. Economic evaluation such as cost- effectiveness analysis (CEA) is considered to be one of the crucial tools for healthcare decision-making.
Both UK and Japan share a challenging financial situation in health and social care in rapidly ageing society. It is very important both countries and international society work together through exchanging best practice and ideas in order to make the best use of available resources and to establish a sustainable healthcare model.
The Science and Innovation Network (SIN) Japan hosted UK-Japan Symposium on Health Economics at the British Embassy Tokyo on 30 January 2014. Two prominent health economists were invited from the UK where economic evaluations have been adopted to develop health policy since 1990's.
Professor Maria Goddard, Director of Centre for Health Economics, University of York presented an overview of application of economic evaluation to health policy in the UK, and also talked about several types of economic evaluation including the Quality Adjusted Life Year (QALY) as well as how cost effectiveness and other factors influence the decision making process. Professor Goddard also introduced related activities by NICE (National Institute for Health and Care Excellence) and 'NICE Pathway' as a tool that brings together relevant NICE guidance.
Professor Martin Knapp of London School of Economics (LSE) and King's College London provided illustrations of how economic evaluations can contribute to policy discussion and to the development of better mental health treatment and care in practice with examples from mental health. Professor Knapp introduced the START (STrAtegies for RelaTives) study which is a pragmatic randomised controlled trial to determine the effectiveness of a manual based coping strategy programme in promoting the mental health of family carers of people with dementia.
Two Japanese health economic experts, Dr Takashi Fukuda of National Institute of Public Health and Dr Mitsuhiro Sado of Keio University talked about current debate in Japan toward the use of economic evaluation for health care decision making, and present status and future challenge of economic evaluation in mental health field in Japan.
At the panel discussion session, we welcomed Professor Naoki Ikegami of Keio University as a moderator and there was a lively and informative discussion on observations and outlooks of health economic evaluation and its application into health policy and health care decision making. As a conclusion, insightful comments were given by Dr Shuzo Nishimura, Director-General of National Institute of Population and Social Security Research.
The symposium was attended by guests including health economists, professional workers in mental health field, government, pharmaceutical companies, and journalists. The symposium was jointly funded by BIS Global Partnerships Fund and FCO Bilateral Programme Budget.
Useful links related to health economics and mental health:
Centre for Health Economics, The University of York: CHE offers a programme of workshops and courses for members of the health economics field, including health economists, health care professionals and students. For details, please see: http://www.york.ac.uk/che/courses/short/
Personal Social Services Research Unit (PSSRU), London School of Economics (LSE)
Institute of Psychiatry, King's College London
The Quality Adjusted Life Year (QALY)
The START(STrAtegies for RelaTives) study
About UK Science and Innovation Network (SIN):
The Department for Business, Innovation and Skills and the Foreign & Commonwealth Office jointly fund the international Science and Innovation Network (SIN). SIN consists of 90 staff, based in 28 countries and 47 cities around the world. SIN officers engage with the local science and innovation community in support of UK policy overseas. They create strategic relationships to harness the value of science and innovation discoveries and investments overseas, leading to mutual UK and host-country benefits.
SIN Japan work to the following global objectives:
influence science and innovation policies of Japanese government, industry and academia to benefit the UK
improve UK policy based on international experience and emerging opportunities and challenges with Japan
stimulate strategic science collaborations with Japan to benefit the UK and deliver wider policy goals
harness Japan international technology partnerships and investment to grow UK innovation capability
Document information
Published: 17 February 2014