World news story
UK - Japan seminar on Diversity and Research Careers
What does diversity mean for research? What support is needed to ensure talented researchers are able to pursue and develop their careers?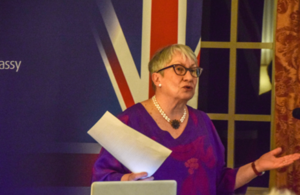 The British Embassy Tokyo hosted a seminar on 'Diversity and Research Careers' on 16 February 2016. Sir Martyn Poliakoff, Vice-President and Foreign Secretary of the Royal Society and Professor Uta Frith, Emeritus Professor at University College London came together with Japanese research leaders to discuss how to promote diversity and supporting talent. Fellows of Royal Society were visiting Japan for the G7-Science Academies meeting in Tokyo in the week.
The Japanese Government aims to increase the ratio of female researchers by 30% by 2020. At the seminar, Ms Aiko Shimajiri, Japan's Minister of State for Science and Technology Policy stressed the importance of female participation in science, which she hopes to discuss at upcoming G7 Tsukuba Science Minister Meeting in May this year.
Ms Shimajiri said,
I believe that increasing the participation by diverse groups of people including women in science and technology will accelerate innovation and contribute to the development of society and economy.
Mr Takeo Nakagawa, Deputy Director General for Science, Technology and Innovation, Cabinet Office, highlighted numerical targets for employing female researchers, that have been set in Japan's recently adopted Fifth Science and Technology Basic Plan.
Sir Martyn Poliakoff, Vice-President and Foreign Secretary of the Royal Society, introduced a new Diversity Strategy which sets out how the Society will use its convening power and leadership, in partnership with others, to increase diversity in STEM (science, technology, engineering and mathematics) and build a more inclusive scientific community in the UK.
Professor Uta Frith, Emeritus Professor of University College London (UCL) and chair of the Society's Diversity Committee, gave a presentation on "Pride and Prejudice: Breaking down Barriers in Science" including the unconscious bias which can influence our decisions or judgements. Addressing 'unconscious bias' is one approach that the Royal Society is using to ensure that its funding, awards, and appointments are drawn from the widest range of talent.
Professor Frith said,
The Royal Society represents excellence in science. It cannot afford to miss out on talent. We believe diversity is vital for excellence and progress in science.
Professor Mitsunobu R Kano of Okayama University facilitated a lively panel discussion including Professor Kimio Ito of Kyoto University, Dr Miyoko O. Watanabe, Deputy Executive Director of Japan Science and Technology Agency (JST) and Ms Haruno Yoshida, President of BT Japan. The panel discussion and questions from the audience highlighted the importance of measuring performance and potential with clear criteria, the challenge of tackling cultural biases about careers from an early age, new approaches to using mentoring in research environments, the power of technology to promote flexible working practices, and the need to shape support around individuals rather than making assumptions about what women (and men) need to balance work and home life.
Published 1 March 2016