World news story
UK-Japan relations celebrated with launch of Japan400 website
Commemorative website launched to celebrate 400th anniversary of the start of diplomatic, trading and cultural relations between Britain and Japan in 1613.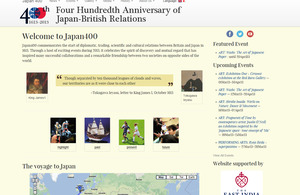 Leading British institutions and professionals including historians, journalists, representatives of cultural institutions and Japan enthusiasts have worked on a voluntary basis to launch Japan400.com in 2013 - the four hundredth anniversary of the first diplomatic, trading, scientific and cultural relations between Britain and Japan.
Telling the story of the two countries' common history, which began with a remarkable sea voyage and an exchange of royal gifts in 1613, Japan400 celebrates existing links and aims to further enrich the dialogue and the dynamic relationship between the two countries.
Readers are encouraged to explore the site's extensive gallery and maps, where they can relive the original voyage of Captain John Saris to Japan that has inspired many successful collaborations and a remarkable friendship between two societies on opposite sides of the world.
The site also offers information on a host of exciting events planned for 2013, including art, theatre, science, enterprise, lectures on historical themes and popular festivals.
Japan400.com is available in English and Japanese and will be updated regularly throughout the year.
Published 12 February 2013