World news story
UK - Japan goodwill exchange at sea
On board exchange between British Royal Navy and Japanese ships supporting ongoing relief efforts in the Philippines.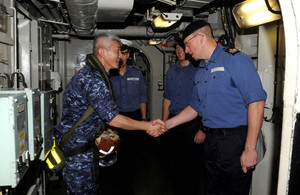 Captain Tanaka of Japanese ship JS ISE climbed aboard British Royal Navy ship HMS Illustrious on 27 November for a goodwill exchange between the two ships, amid ongoing UK and Japanese support for relief efforts in the Philippines.
HMS Illustrious takes over from HMS Daring, the first of the British Royal Navy's six Type 45 destroyers, which was taking part in an exercise with Australia, New Zealand, Singapore and Malaysia as part of the Five Powers Defence Arrangement when she was re-tasked to the Philippines to deliver aid after Typhoon Haiyan hit the country on 7 November 2013.
With HMS Illustrious now in the Philippines, HMS Daring is continuing on its way to Japan.
More details of HMS Daring's symbolic visit to Japan can be found here.
Published 29 November 2013