Press release
UK-Ireland treaty brings end to paramilitarism a step closer
UK and Irish government sign treaty to establish Independent Reporting Commission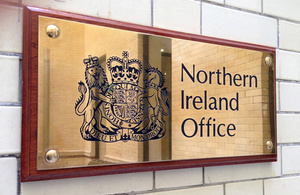 The signing of a treaty between the UK and Irish governments to establish an Independent Reporting Commission (IRC) is a decisive step towards ending paramilitary activity in Northern Ireland.
The new body will report at least once a year on progress towards ending paramilitary activity in Northern Ireland. It is one of the measures set out in last November's Fresh Start Agreement. Independent scrutiny by the IRC will help to ensure that the UK Government, the Irish Government and the Northern Ireland Executive are held to account and that the commitments in the Executive's Action Plan for tackling paramilitary activity are delivered.
The treaty was signed on Tuesday 13 September at Iveagh House, Dublin by Secretary of State for Northern Ireland James Brokenshire and Irish Minister for Foreign Affairs and Trade Charlie Flanagan.
Secretary of State for Northern Ireland James Brokenshire said:
There was never any justification for paramilitary groups, there is none today and there will not be in the future.
The IRC provides for an independent review of progress towards disbanding paramilitary groups which continue to blight our society.
For generations, paramilitary activity wrecked lives in Northern Ireland, and for many people the repercussions continue.
Today's signing follows the commitments we made in last year's Fresh Start Agreement. This includes £25 million UK Government funding to support the Northern Ireland Executive's strategy to end paramilitarism, plus a further £3 million to fund the IRC.
Tomorrow I will lay regulations in Parliament to enable the IRC to be operational by the end of 2016, bringing an end to paramilitarism a step closer.
The IRC's annual reports will be published by the UK and Irish Governments, which are also entitled under the terms of the treaty to jointly request further reports as required. The Commission may make recommendations to the Northern Ireland Executive to inform future Programme for Government priorities and commitments.
The IRC will have four members, including persons of international standing. The UK and Irish Governments will nominate one member each; the Northern Ireland Executive two members.
The treaty delivers the UK and Irish governments' commitment, set out in the Fresh Start Agreement, to establish the IRC as an independent, international body.
Today's signing is the latest milestone in implementing the proposals of Fresh Start agreement and follows progress made on a range of issues since last November:
Implementation of welfare reform legislation in Westminster;
Royal Assent for the Northern Ireland (Stormont Agreement and Implementation Plan) Act;
Funding for shared and integrated education projects in Northern Ireland;
Publication of a report from an independent panel on tackling paramilitary activity in local communities; and
The restructuring of the Northern Ireland Civil Service.
Published 13 September 2016