World news story
UK Investment Opportunities for Thai Businesses
UK Trade & Investment (UKTI) Promotes Investment into UK at Seminar Hosted by Thai Ministry of Foreign Affairs and Board of Investment.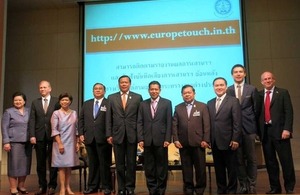 On Friday 26 July, Bradley Jones, Director of Trade & Investment at the British Embassy spoke at a seminar on "Investment Potential and Opportunities for Thai Businesses in the UK". The seminar took place one day after the release of UKTI's annual Inward Investment Report which confirmed that the UK is the leading location in Europe for foreign direct investment.
Speaking about the strong UK offer for investors and the many opportunities for Thai investment in the UK, Bradley Jones also outlined investment procedures and support available to Thai businesses that are thinking of locating in the UK. The UK Visas & Immigration (UKVI) team also provided a briefing on UK visa rules and regulations for potential investors and business visitors.
Landmark Lancaster Hotel Group, Thai Bev, S&P Global Co and CP Merchandising were among the Thai companies that shared their experiences of doing business in the UK to an audience of over 100 representatives from the Thai private sector. More than 20 Thai companies already have investments in the UK including CP Group, Indorama and Sahaviriya Steel Industries. UK Trade & Investment in Thailand is working to support more Thai companies invest in the UK.
The seminar is a result of the Thailand-UK Strategic Dialogue, a high-level and regular consultative mechanism that serves to facilitate closer dialogue and collaboration between Thailand and the UK. The first session of the Thailand-United Kingdom Strategic Dialogue was held on 20 May 2013 and was co-chaired by HE Mr Jullapong Nonsrichai, Vice Minister for Foreign Affairs of Thailand and the Right Honourable Hugo Swire, Minister of State for Foreign and Commonwealth Affairs in the UK.
Further information
UK Trade & Investment Thailand
Follow British Ambassador Mark Kent on Twitter @KentBKK
Follow the British Embassy Bangkok on Twitter and Facebook
Published 5 August 2013