UK - India Foreign Office consultations
Permanent Under-Secretary Simon Fraser welcomed Indian Foreign Secretary Nirupama Rao to the Foreign Office for a wide-ranging exchange on the current priorities for the UK-India Enhanced Partnership.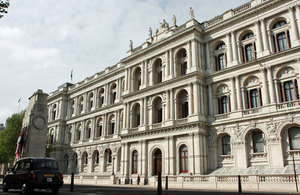 The delegations spoke about substantial progress made in the year since Prime Minister David Cameron's visit to India and looked forward to the tasks for the year ahead.
The delegations also discussed a wide range of foreign policy matters, including bringing long-term stability to Afghanistan, the current situation in the Middle East, UN Security Council reform, working together to support India's applications to join the four Export Control Regimes, stepping up counter-terrorism co-operation, and strengthening bilateral and multilateral co-operation to tackle the challenges of climate change.
India and the UK share a special and unique relationship, bound by shared values and ties, including the ideals of democracy, the rule of law, inclusiveness and pluralism. The bilateral relationship reflects this unique bond, covering the entire spectrum of activity, from education, to trade and investment, to counter-terrorism and other security co-operation.
Foreign Secretary Nirupama Rao called on Jeremy Browne, Minister of State in Foreign and Commonwealth Office, and the National Security Adviser of UK Sir Peter Ricketts. She earlier addressed the International Institute for Strategic Studies in London on 27 June on, "Key Priorities for India's Foreign Policy".
Published 29 June 2011