World news story
UK independent television production mission to China for collaboration
On 11 Nov, Pact (the Producers Alliance for Cinema and Television) leads a strong delegation of top British TV production companies to China.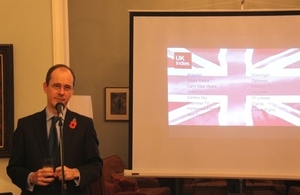 With the support of UK Trade & Investment (UKTI) from 11-18 November, Pact (the Producers Alliance for Cinema and Television) leads a strong delegation of top British TV production companies to China, looking for more collaboration with Chinese counterparts in the flourishing creative and TV production sector in China.
Pact represents the commercial interests of the independent television production sector in the UK. On this first visit, they are leading 16 top British TV production companies to visit Beijing, Shanghai and then Chengdu, where they will attend the Sichuan TV festival from 16-18 Nov.
In Beijing and Shanghai, delegates will meet local industry players such as China Central Television (CCTV), Beijing Television (BTV), Shanghai Media Group (SMG), Youku/Tudou, iQiyi, Tencent Video, and other key players in the industry. They will also hold a China-UK TV Innovation Meeting at the Ambassador's Residence in Beijing. While in Chengdu, delegates will attend the Sichuan TV festival to showcase the UK's GREAT creativity in the film and TV industry for Chinese audience and counterparts. Pact will also host a signing ceremony with CCTV documentary channel there to further collaborate with Chinese partners.
The 16 top British production companies specialise in different areas for TV and film production, including production of high quality and innovative content across TV, film and digital media, post-production, funding, distribution, acquisition, HD content and 3D content. Their products' genres range from animation, comedy, documentary, features, specialist factual, entertainment, sport, education and more. Some of their content has won or been nominated for world-renowned prizes, including Oscars, Emmy awards, and BAFTAs. Sue Vertue (Hartswood Films) is the producer of the international hit TV series, Sherlock, and also joins the delegation to China.
Britain is a creative nation with global favourites like Wallace and Gromit, Sherlock and Downton Abbey, which is now the UK's largest drama export, reaching 120 million viewers in 200 countries around the world. The UK's independent television sector is one of the biggest globally, producing and distributing approximately half of all new UK television programmes as well as digital media content and feature films. UK television exports are one of the country's most impressive products and British dramas are expected to reach 160 million online viewers in China over the next 2 to 3 years.
Sebastian Wood, British Ambassador to China said:
This mission is an excellent opportunity for Britain and China to explore our creative potential together. It is also a chance for us to demonstrate Britain's strengths in the creative sector, especially TV sector, as part of the GREAT campaign. The campaign aims to showcase the best of Britain in order to encourage the world to visit, study and do business with the UK. We will be holding a number of Creativity is GREAT events in the future across China, including a GREAT Festival of Creativity in Shanghai in 2014.
John McVay, CEO of Pact, said:
China is the fastest growing market for UK television producers – our latest report shows sales have increased by 90 per cent in the last year. The UK has some of the world's most iconic and successful TV shows and Pact is delighted to bring a delegation of companies to China. This is sure to be the beginning of a strong and long-lasting business relationship between Chinese buyers and the UK indies.
Published 12 November 2013