UK hosts fourth UK-Israel strategic dialogue
UK and Israel discuss areas of shared concern including preventing Iran from getting nuclear weapons and ending the violence in Syria.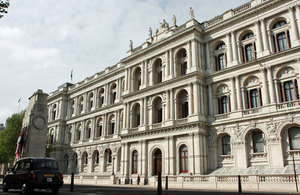 On 1 November the UK hosted a high-level delegation of Israeli officials for the fourth annual UK-Israel Strategic Dialogue. Foreign Office Permanent Under-Secretary and Head of the Diplomatic Service Simon Fraser led a team of UK officials from across government while the Israeli delegation was headed by his counterpart, Ministry of Foreign Affairs Director General Rafi Barak.
Speaking after the talks, Simon Fraser said:
"The strategic dialogue is a demonstration of the strong partnership between the United Kingdom and Israel and a chance to discuss numerous areas of shared concern and cooperation.
"Today we focused on regional questions, including how to prevent Iran from getting nuclear weapons, and how to bring an end to the bloodshed in Syria. We also looked at bilateral cooperation, agreeing numerous steps to bolster our already-strong relations in areas like science and technology. And we discussed the Middle East Peace Process, where our governments agree on the goal of a peace based on the two state solution and on the security of Israel, but where we disagree on issues like settlements and restrictions on Gaza.
"The Dialogue shows clearly that Britain and Israel are - as the Foreign Secretary has said - strategic partners, working together on many issues of shared concern, and talking constructively on the areas of difference."
Published 5 November 2012