World news story
UK-Honduras meeting in London
British Ambassador to Honduras, Sarah Dickson, met with the Honduran Ambassador in London, Mr. Ivan Romero.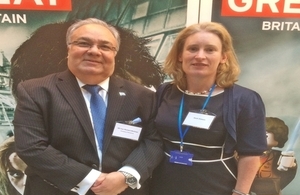 In the context of an event held at the Foreign and Commonwealth Office (FCO) to promote Britain's creativity and links with Latin America, Ambassadors Dickson and Romero coincided at the reception "Creative Britain" in Durbar Court, at the FCO's headquarters in London. The FCO is holding a conference with leaders from around the world working in the diplomatic service. The event was the perfect occasion for the Ambassadors to discuss the UK-Honduras relationship and common priorities.
Ambassador Dickson praised Honduras' participation at the Latin American Investment Forum last week, where the Embassy presented investment opportunities in infrastructure projects, aimed at boosting Honduras' employment generation policy with special emphasis in the Development and Employment Economic Zones promoted by the Government of President Juan Orlando Hernandez.
From London, Ambassador Dickson said:
"I'm pleased to meet Ambassador Romero. Our Embassies work hand in hand to promote the bilateral relationship. I'm sure that the Embassy's participation at the Latin American Investment Forum put Honduras in the spotlight of investors in the UK. I encourage the Honduran authorities to keep taking all the necessary steps to improve the rule of law, the protection of private property rights and guarantee essential individual freedoms. All of these are indispensable elements to create a proper business environment to promote growth".
Ambassadors Dickson and Romero discussed the possibility of taking a commercial mission of UK businesses to Honduras later this year.
Published 16 May 2014