World news story
UK higher education strengthening relationships with Brazil
Science Without Borders program helped triple the number of Brazilian students in the UK.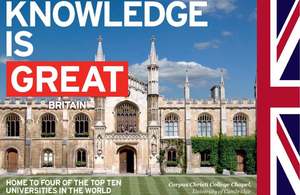 More Brazilian students than ever before are choosing to study in the UK.
Figures released today show that the number of undergraduate students who will come to study in the UK as part of the Science without Borders programme has trebled since the UK arm of the scheme was launched last year. Science without Borders is a Brazilian Government scholarship programme focusing on science, technology, engineering and mathematics. Just over 1700 talented Brazilian students will be coming to study in the UK this September at more than 70 UK universities.
This news comes at a pivotal point in Latin America-UK relations. The Business Secretary Vince Cable was in Brazil this week to build more higher education partnerships and research collaborations between the UK and Brazil. Universities Minister, David Willetts, has led a delegation to Colombia and is now in Mexico as part of an education delegation which aims to encourage further engagement between these countries and the UK in the future.
Business Secretary Vince Cable said:
My trip this week to Brazil has underlined the importance the UK Government places on developing links with Brazilian universities, business and students. The Science without Borders programme is a good example of the collaboration between our two countries by attracting high caliber Brazilian students to Britain's world-class higher education sector. I hope that the continued success of the programme can also be a platform for growth, and that more UK businesses will take advantage of industrial placements and sponsoring PhD students.
Dr Joanna Newman, Director of the UK HE International Unit (IU) which manages the programme on behalf of Universities UK, said:
The rapid growth of participation in the UK Science without Borders programme clearly demonstrates the continued popularity of the UK as a study destination. This programme will help forge long term and enduring partnerships between Brazilian and UK universities. Brazilian students are a valued part of our diverse academic community and I expect their university experience will sustain personal and business links the UK for years to come.
Richard Masters, Director of the British Council in Brazil commented:
The British Council in Brazil is very pleased with the results of Science without Borders. This increase in students represents a milestone in higher education cooperation between UK and Brazil. We look forward to continuing to partner with the UK HE International Unit in promoting British education institutions to Brazilian students.
Over 100 UK higher education institutions are eligible to participate in the scheme which aims to send 101,000 students from Brazil overseas (of which up to 10,000 will come to study in the UK) on undergraduate sandwich courses, PhD sandwich courses, full PhDs, and post-docs. The subject areas covered by the programme are science, technology, engineering, mathematics and creative industries that focus on technological and innovative development. To date over 1100 undergraduates are already studying in the UK as part of the SwB programme (from two intakes; September 2012 and January 2013) and a further 150 PhD students and 300 post-docs are also here.
For further information please contact:
Catriona Finlayson - catriona.finlayson@international.ac.uk, 0207 419 5609 or Vikki Challen - Vikki.Challen@international.ac.uk, 0207 419 5615 or 07787 423 176
Notes to Editors
About the UK Higher Education International Unit (IU) The UK Higher Education International Unit (IU) initiates and carries out high profile projects and activities to support and develop the breadth and depth of the UK HE sector's international activities. For more information click here
About Science without Borders UK
Science without Borders UK (SwB UK) is the first large scale student mobility programme operated in the UK. This ground breaking initiative, will see the UK welcome up to 10,000 Brazilian students during the course of the programme.
Science without Borders UK is managed by the UK HE International Unit (IU) on behalf of Universities UK. Universities UK are the representative organisation for the UK's universities.
For more information visit our Science Without Borders
Published 29 April 2013