World news story
UK Helps in Giving Kenyan Children a Right Start in Education
UKaid launches the Tusome Early Learning Programme aimed at improving the literacy outcomes in lower primary and enhancing quality education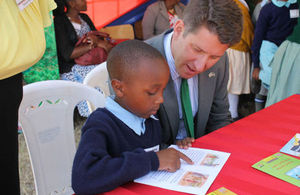 The British High Commissioner, Dr Christian Turner, joined His Excellency the President Uhuru Kenyatta in launching the Tusome Early Learning Programme on Thursday, 28 January. The Programme is aimed at improving the literacy outcomes in lower primary and enhancing quality education.
The programme will help to give a better start to nearly 5.4 million class 1 and 2 pupils in 22,600 Kenyan public schools by providing new textbooks and other developmental reading materials. Close to 60,000 primary school teachers will also receive training in state of the art teaching methodology.
The Tusome national reading programme is supported by the UK government through the Department for International Development (DFID) and the U.S. Agency for International Development (USAID). The programme builds on the results of a the Ministry of Education, Science and Technology (MoEST), pilot jointly funded UK aid USAID that more than doubled the percentage of Class 1 and 2 pupils able to read at national literacy benchmarks in 1,384 focus schools between 2011 and 2014.
Speaking in Ruai Primary School in Nairobi, Dr Turner said: "A good education is a human right, a global public good and a necessary ingredient for economic development and poverty reduction. For education to maximise its transformational potential, children need not only to be in school but also learning. I am delighted that UK through the Department for International Development Education programme is supporting TUSOME to the tune of UK£6.25 million (Kshs921 million). In line with the Millennium Development Goals (MDGs) and the goals of Education For All, the UK government is helping ensure that every girl and boy can access, and complete, a good quality basic education."
The UK approach combines strengthening national education systems to ensure better provision for improved learning; improving accountability to citizens and taxpayers for results; and improving what happens in classrooms. To this end, DFID together with the Teachers Service Commission (TSC) is piloting a teacher appraisal system to improve teacher performance and integrity.
Published 3 February 2015