UK helps educate an extra 3.5 million children
Britain will help millions more children access quality education in a major global drive to tackle illiteracy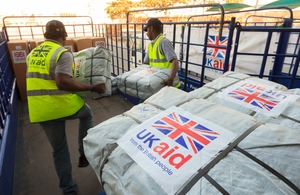 Britain will help a further 3.5 million of the world's poorest children - half of them girls - access quality education, Development Minister Stephen O'Brien announced today during a major global drive to tackle illiteracy.
The UK is joining 16 other countries, plus partners from the private sector, private foundations and multilateral agencies to support the Global Partnership for Education (GPE) and help it meet its commitment to halve levels of illiteracy among seven and eight year olds in the countries where it works.
Britain's support will:
Help 3.5 million children enrol in primary school in countries such as Gambia, where 54% of children in Grade 2 (6 to 7 year olds) were unable to read a single word and Mali, where 94% of Grade 2 pupils were unable read a word of the country's official language
Help get 7 million textbooks in classrooms so children have up to date learning resources and train more than 84,000 new teachers with the latest skills
Achieving these results will require continued commitment and effort from the Global Partnership for Education, its supporters and the developing countries who are implementing the plans.
Speaking at the GPE's funding drive in Copenhagen, Mr O'Brien said:
Good education is vital to beating poverty - it transforms lives and countries. This is about so much more than counting heads: it is about ensuring children finish school with an education which will help them build a future for their families.

An extra year of schooling for a child translates to a 10% increase in their potential income, which helps the whole country develop.

Girls who have been to school are likely to do significantly better financially and be far healthier as they start their families later and have fewer children. They are also more likely to seek antenatal care, immunise their children and secure treatment for dangerous infections.

The GPE is a great example of how both developed and developing countries can work in partnership with the private sector to lift people out of poverty.

I welcome the involvement of the British learning specialists Pearson who are committing to work with the GPE to achieve results for the world's poorest children.
The International Development Minister warned that the average child in a poor country is at a level of attainment equal to a child in the bottom five per cent in the developed world.
He said this is partly due to the fact that success in education is often judged by the number of children in school - rather than what they learn when they are there.
Stephen O'Brien said British support for education does more than build classrooms and fund teachers - it helps ensure children have resources, teachers are well trained and standards are measured and improved.
Stephen O'Brien's announcement of British funding for the GPE comes two months after the launch of the Girls Education Challenge Fund which will help up to one million more girls go to school.
Announced by the Deputy Prime Minster, the project calls on NGOs, charities and the private sector to find better ways of getting girls into, and staying on at, school in the poorest countries in Africa and Asia which the UK has identified as a priority, including Bangladesh, South Sudan and Nigeria.
Published 8 November 2011