World news story
UK helps build capacity of the Kosovo Security Force
Kosovan Brigadier General graduates from UK Military Course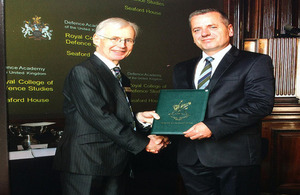 Brigadier General Gezim Hazrolli of the Kosovo Security Force (KSF) has become the first ever Kosovan to graduate from the United Kingdom's world renowned Royal College of Defence Studies (RCDS).
Brigadier Hazrolli spent a year at RCDS, which is the senior military college in the United Kingdom and a globally recognized institution of learning. The course is designed to develop strategic thinkers and leaders. An important aspect of the training is the development of analytical skills that allow graduates to work intuitively across national, cultural and ideological boundaries, to lead and contribute to developing strategy at the highest level.
General Hazrolli said:
The experience at RCDS has been a fantastic one, developing my strategic understanding and capacity to operate at the highest level. I have learned a great deal from my fellow participants, both British and international, and the opportunities to travel internationally have been excellent and a unique learning experience.
Ambassador O'Connell said:
General Hazrolli's participation on the RCDS course is an example of the British Government's commitment to building the capacity of the KSF. I am pleased to announce that the fruitful relationship between RCDS and Kosovo will continue, as Brigadier Enver Cikaqi has been selected for the 2015/16 course starting in September. I congratulate General Hazrolli on his graduation and wish General Cikaqi good luck with his future endeavours in the UK.
Published 12 August 2015