World news story
UK healthcare expertise showcased in Hong Kong
Lord Darzi of Denham and Healthcare UK Managing Director visit Hong Kong to promote UK healthcare expertise.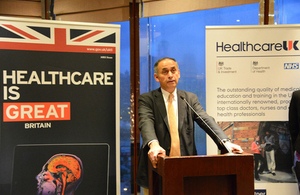 Professor the Lord Darzi of Denham visited Hong Kong on 7 and 8 May 2014 with Healthcare UK's Managing Director Howard Lyons. During the visit they attended the Hospital Authority Convention. Their presentations focused on the challenges to the UK healthcare landscape over the past 10 years and how they have been approached.
UK expertise
The UK has exceptional healthcare experience and expertise particularly in the areas of:
primary care
mental health
specialist hospital design
UK healthcare companies are at the forefront of innovation, integrating new health models within the financing, design, build and operation of healthcare facilities.
Hospital Authority Convention
Lord Darzi's keynote address at the opening ceremony talked about:
innovation in UK healthcare
patient safety
polyclinics
reform in primary care
Lord Darzi and Mr Lyons attended various workshops and events at the convention.
UK-Hong Kong collaboration
Lord Darzi and Mr Lyons emphasised the importance of working together on 21st century global health challenges. They also demonstrated that UK and Hong Kong collaboration can bring great benefits.
They spoke in particular about issues that both face including the pressure on health services posed by ageing populations. They explained:
the UK's approach to community-based care
how telehealth capability can tackle this
Leading British architects, engineers and construction firms are collaborating to create cutting-edge designs. These are revolutionising the hospital and clinical environment.
Lord Darzi and Mr Lyons showcased how the UK organisations could support Hong Kong's healthcare sector on hospital and clinic construction. They shared examples of how UK companies can also optimise hospitals' clinical performance and sustainability.
Contacts
Contact Healthcare UK to find out how we can support healthcare partnerships between the UK and overseas healthcare providers.
Notes to editors
Professor the Lord Darzi of Denham is Chair of the Imperial College Health Partnership and was former Parliamentary Under-Secretary of the Department of Health.

Healthcare UK's, headquartered in London, works with UK Trade & Investment's network of advisors located in more than 100 countries. The organisation helps UK healthcare providers to do more business overseas by promoting the UK healthcare sector to overseas markets and supporting healthcare partnerships between the UK and overseas healthcare providers. Healthcare UK is a joint initiative of the Department of Health, UK Trade and Investment and NHS England.
Published 9 May 2014