World news story
UK health experts meet with US medical companies
Representatives from the National Institute for Health and Clinical Excellence (NICE) advised the companies on treatment guidelines.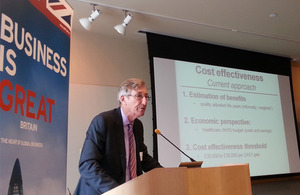 NICE advises the UK's National Health Service (NHS) on best practices, and aims to bring innovative and cost-effective drugs, devices, and treatments to patients in the UK.
During a busy week of meetings, seminars and receptions, Sir Michael Rawlins and Professor David Haslam, the chair and chair-designate of the NICE, met with top US pharmaceutical, biotechnology and medical device firms and over 100 fast-growing companies looking to break in to the UK healthcare market. As NICE's evidence-based guidelines not only influence the NHS, but also public healthcare systems around the world, US businesses were eager to talk with them.
On their tour of the US, Sir Michael Rawlins and Professor Haslam had stops in Los Angeles, San Francisco, Chicago, Boston and New York. A highlight of the trip was a lunch seminar arranged by UK Trade & Investment (UKTI) in New Brunswick, New Jersey.
In the lively seminar, US executives were impressed by the common sense approach used by NICE to evaluate new products. Essentially, new treatments must make a proven difference, and budget limitations mean that there must be a maximum on the cost per patient per year. While this maximum is normally determined by NICE's Quality Adjusted Life Year (QALY) formula, it can be flexible for certain groundbreaking products – for example sunitinib for renal cancer, bortezomib for myeloma, and trastusumab for breast cancer.
NICE guidance is not mandatory, however, and one recurring issue for the industry is slow uptake of new treatments across the NHS. Sir Michael Rawlins clarified that the NHS now has a statutory duty to offer (and pay for) products recommended by NICE. Where NHS Trusts do not, they can be compelled to do so. In addition, the NHS' new Innovation Scorecard will show which NHS Trusts are leading in the adoption of new products and treatments. This should help drive uptake, and we are confident that industry will help act as monitors of progress.
Professor Haslam, who is assuming the chair on 1 April 2013, also discussed NICE's expanding role, which will encompass social care. The integration of health and social care is becoming standard in Scotland, Northern Ireland and Wales, but less so in England. Future NICE guidelines addressing social care should therefore play a key role in advancing integration.
As Sir Michael Rawlins bid farewell after 14 years as the chair of NICE, he mentioned that he would be gracefully entering retirement by assuming the chair of the UK BioBank, the Cambridge Academic Health Science Network, and myriad other projects in the UK.
Published 8 March 2013